International Casino Games IV With 1 Million Euros Prize Pool Have Been Launched At Fortune Lounge Online Casinos.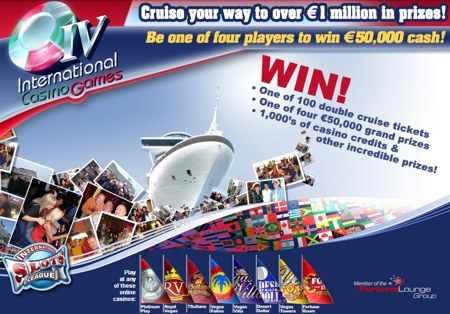 Anchors away! Sail the seas of fortune with the International Casino Games IV at Fortune Lounge member casinos. This spectacular, six-month competition gives online players the chance to win their share of hundreds of thousands of casino credits in multiple weekly tournaments, cash draws and other promotions PLUS one of
100 double cruise tickets
to embark on a celeb-style European sea cruise and compete in the live final event for one of four €50,000 grand prizes.
Each week between 12 August 2008 and 9 February 2009, a series of pulse-racing weekly promotions and
International Slots League
tournaments will be hosted at all participating
Fortune Lounge casinos
. Simply 'opt in' and take part in the promos, and you could win loads of free casino credits or a cruise ticket for two to the final event in the spring 2009, where you'll have a 1 in 25 chance of winning €50,000 cash.
How do I enter?
If you are already a member of one of the Fortune Lounge's casinos, you'll be sent invitations to participate in these fun-filled promotions and tournaments via e-mail, the Casino Message of the Day, or your Fortune Lounge Personal Messenger. Keep an eye on your inbox for weekly e-mails, which will tell you everything you need about current International Casino Games IV promotions and tournaments.
28 weeks of ecxiting promotions give you plenty of opportunities to win free casino credits or one of 100 tickets to the final event. The more of these promotions you take part in, the more chances you'll have of being one of the 4 lucky winners who walks away with €50,000 cash prizes.
In the 3rd week of ICG IV (26 - 31 August) players may take part in
Cards 'n Dice Contest
or
Ready, Steady, Spin!
promotion. Each of the promos award 2 cruise tickets plus
3,000 and 8,000 casino credits
for dozens of players.
During the next week of 2 - 7 September you can join
"Play Your Favourite & Win!"
promotion and win one of 2 cruise tickets and 8,000 casino credits (in £, € or $, depending on the currency of your casino account).
"Exclusive Invite: High Seas for High Rollers"
promotion will award 2 tickets and 6,000 credits to lucky winners.
International Slots League
Tournaments will be held during the second week in September. Players will win 12,500 casino credits and 5 cruise tickets for two.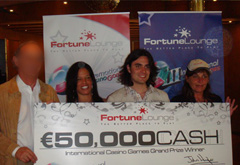 International Casino Games history
The ICG III Cruise took place between 22 April and 29 April 2008 and following on the success of the first two International Casino Games Cruises, this was again a HUGE success! The Finals came to a thrilling conclusion with the onboard slots tournament which saw the 10 finalists, playing for a share of €240,000 in cash. On its journey, the cruise docked in Toulon (France), Tunis (Tunisia), Valetta (Malta), Medina (Sicily), Naples and then back in Rome. Four winners took home the grand prizes of €50,000 IN CASH each and extra €40,000 was shared by the other 6 finalists.
Source: Fortune Lounge
Related Articles:
1. Royal Vegas Casino Gets Make-Over, International Casino Games..

(25/08/2008)



2. The Big Easy Promotion At Fortune Lounge Casinos - 40,000..

(01/02/2008)



3. Fortune Lounge Has Launched International Casino Games III And..

(17/01/2008)



4. Fortune Lounge Promitions And Recent Winners, International..

(05/01/2008)



5. Casino Player Zully D. Wins Her Ticket For Two To The..

(16/11/2006)



6. Fortune Lounge Is Launching International Casino Games 2006/7

(08/08/2006)



All Online Casino News & Gambling Articles