Emerging Casino Meccas: Las Vegas And Monte Carlo Alternatives In Europe And Asia.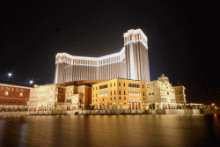 While the destinations that we know and love, such as Las Vegas and Monte Carlo, continue to thrive, we'd like to explore some other fantastic sites here in Europe and Asia offering great casino vacations. With more flexible laws regarding gambling and major investments from the casino giants, these emerging getaways are worth checking out!
Ciudad Real, Spain
There has been a casino culture in Spain for years, but soon a mega-resort operation will open near Madrid. Harrah's, a respected Las Vegas based company, will open up a large resort with multiple hotels, a spa, retail shops, restaurants, a conference center, and of course, a casino!
Nova Gorica, Slovenia
Nova Gorica is a small town in western Slovenia. Perhaps due to the proximity to the Italian border, Hit Entertainment Group recently built a deluxe resort, Perla, which is attracting many tourists with its glitzy image coupled with a serene atmosphere outside. And Harrah's is joining in here, too. This resort is under development and promises to have the amenities gamblers know and love.
Manchester, England
Perhaps acknowledging a growing demand and wishing to keep more Great British Pounds in England, the government recently granted a permit for a mega resort in Manchester. The plans for the resort include over 1,000 slot machines, a swimming pool, bars, restaurants, and a nightclub.
Macau, China
Macau is known as the Las Vegas of Asia. It is the only legal gaming location within China. Macau, a small territory on the southern coast of China, has played a unique and influential role in relations between China and the West for centuries. In the 21st century, Macau is standing on the threshold of a new frontier due to her special status within China as the only region where gambling is legal. To thousands of Asian casino devotees, Macau is really Asia's own Las Vegas. You can find flamboyant animated billboards and marquees everywhere in downtown Macau - Sands Casino! Casino Lisboa! Galaxy Rio Casino! Even on a most tranquil Sunday afternoon, the casinos here are manifested with gamblers 3 and 4 deep at every baccarat tables. Gamblers come to Las Vegas to be entertained, but Chinese gamblers in Macau, step into a casino to challenge their destiny!
Source: Europa Online Casino
Related Articles:
1. Updated Player Deposit Options at Las Vegas USA and Vegas..

(08/08/2007)



2. World Series Of Poker Brings Players From Around The World To..

(27/06/2006)



3. Win Your Share Of $80,000 And Go CAC Las Vegas As A..

(15/05/2006)



4. The 9-week Vegas Loves Ya Baby Promotion At Fortune Lounge..

(05/05/2006)



5. WPT Announced The Return Of The Doyle Brunson North American..

(20/08/2005)



6. 4 Top British Poker Players Look to Dominate the World Series..

(16/06/2005)



All Online Casino News & Gambling Articles