New Europa Casino Travel Magazine Is The Ultimate Gambling Travel Guide Featuring Top European Gambling Destinations.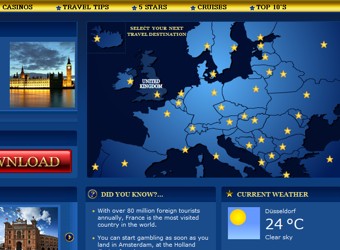 Europa Casino, the leading online gaming destination in Europe, has just announced the launch of the official Europa Casino Travel Magazine - a new section on its website. Billed as "Your Guide to Top European Gambling Destinations," this new gambling travel guide is a useful tool for individuals looking to visit Europe.
User-friendly and easy to access, Europa Online Casino's travel guide offers useful information on top European destinations and land based casinos. Articles on individual European countries include a general background overview as well as information on sites to see, local culture, popular cuisine, and famous people from that place. Reviews of the most popular European cities such as London, Paris and Berlin, on the other hand, offer readers a general overview, interesting tidbits, and recommended hot spots around.
The Europa Casino Travel Magazine also offers visitors details regarding gambling in Europe in general, and at individual European land-based casinos more specifically. This information is particularly useful to Europa Casino players who are interested in taking their online gaming offline, when visiting Europe. Besides identifying the name and location of each casino, it also gives an overview of types of casino games played, currencies accepted, and local dress-code (if applicable).
For something a little different, the magazine site also has a comprehensive section covering cruises, for those interested in a European casino cruise. Learn more about sea cruises aboard The Crown Princess, a luxury cruise ship owned and operated by Princess Cruises and a capacity of 3,070 guests and 1200 crew members. Get ready for the journey of a lifetime.
In addition to information on European vacations, the magazine site includes general travel tips, to help tourists stay both safe and comfortable throughout their European journeys.
Overall, the Europa Casino Travel Magazine is the perfect compliment to Europa Online Casino, helping site visitors interested in European casino gaming extend their experience offline.
About Europa Casino
Europa Casino is Europe's leading internet gaming destination. A premier, full-service online casino, the site offers over 110 casino games, 19 progressive jackpot games, generous weekly promotions and a top-of-the line players' loyalty program. As a member of the prestigious Euro Partners group, and powered by award-winning Playtech technology, Europa Casino is dedicated to maintaining an atmosphere of sophisticated gambling online. With attention to detail and quality, Europa Casino maintains full support services for players 24 hours a day, 7 days a week in 13 different languages! New members are eligible for amazing welcome bonuses up to €/$/£2,400 free a year. To download Europa Casino's free award-winning software, please visit
Europa Casino website
.
Related Articles:
1. Flight Zone, Monster Meteors Slots And Hi Lo 13 European..

(19/06/2009)



2. Eurogrand Online Casino Targeting High Rollers In Europe

(21/04/2009)



3. Upcoming Roulette And Slot Tournaments At InterCasino

(24/02/2009)



4. Online Gambling And Betting: EU Private Industry Leads First..

(04/11/2008)



5. 23 y.o. Kenneth Tomming prepares for a spring poker adventure..

(18/03/2008)



6. Casino Classic - Full Service Online Casino Now Available In..

(27/07/2007)



All Online Casino News & Gambling Articles