Party Poker's High Flier Promotion Winner From Sweden Won 25 Hours Of International Travel.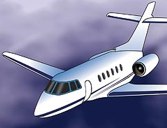 Bridge teacher
Peter Bertheau
is celebrating after beating thousands of people in Party Poker's recent 'High Flier' promotion. Peter, who lives in Taby outside Stockholm, Sweden, won 25 hours of international travel for himself and his family. However, he chose to take the cash equivalent.
Peter 30, is married to Catherine and has two children. He plays international bridge for Sweden and was the national junior chess champion while at school. However, this grandmaster was never in any doubt about whether he was going to go for the jet or the money.
"I was always going to take the money rather than the jet," Peter explained. "I do go overseas a lot playing bridge but I really don't know what I would have done with it!" Speaking of traveling, Peter is off to Dallas in March to play bridge but he says he prefers flying economy.
Party Poker's spokesman Warren Lush said: "You normally associate private jets with rock stars and footballers and the offer of 25 hours in the jet set was never going to build a bridge to Peter's heart."
"The thing is," Peter adds, "if I had taken the private jet I would also have had to find a way of sharing it with my friend Per-Ola. He paid half my buy-in so I've now given him half my money!"
"I'm going to look at buying a car and also build a bank as I would like to enter more live poker events. I will start in Scandinavia and then move on to other areas of the world. I have a lot of friends on the scene and was taught by Johan Storakers. Per-Ola will spend the money very differently from me. He'll go out and have fun and try to spend it quickly!"
There's little doubt that Peter's wife Catherine is very happy with the win but she wasn't interested when he came to wake her in the middle of the night. "Catherine plays a bit but she wasn't very happy to wake up when I told her I was on the final table. The next day we were delighted and it started to sink in."
Peter acknowledges that his path to victory was very rocky: "I was very tight at the beginning and aggressive in the middle of the game, but I went on to the final table with the shortest stack. A key moment was when I went all-in with Ace-Queen and got called with Ace-Three. I was lucky the other guy did that. My final hand was Jack-Jack and my opponent had Ace-King. Nobody hit anything and I won the money!"
Peter has come a long way considering he only learned how to play Texas Hold'em three years ago. "I play online almost every day and this is the biggest prize I've won," he said, "although I did take home $70,000 after finishing on the final table of a $1 million guaranteed tournament on PartyPoker."
"I think Scandinavian players are the best, if I see a Swede or Norwegian at the table I always give them a lot of respect." Now, when players see this Swede at the poker table - or the bridge table - he'll be the one commanding respect!
Source: Party Poker
Related Articles:
1. The High Flier Jet Promo $600,000 Guaranteed Prize Pool..

(24/11/2005)



2. Deserved Online Gambler Sandy C. Won $10,000 Grand Prize In..

(26/11/2005)



3. Take part In Party Poker's $1,000,000 Touchdown Promotion And..

(19/12/2005)



4. Win And Win Big With PartyPoker.com's Progressive High Hand..

(23/08/2005)



5. Party Poker Satellite Tournament Converts A $50 Investment To..

(17/07/2005)



All Online Casino News & Gambling Articles