New Games - Rocky And Pink Panther And The Hot Seat Promotion In September At Omni Casino.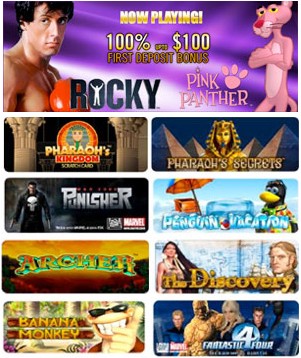 Rocky, Pink Panther and More New Games!
Debuted at Omni Casino August 18, 2010, they are rocking the house! Play the new online slot machine games: Rocky, Pink Panther, Pharaoh's Kingdom, Pharaoh's Secrets, Penguin's Vacation, Archer, The Discovery, Bonana Monkey, Punisher, X-Men and Fantastic 4. New players can claim exclusive 100% match slots bonus up to $200 free if they follow this special promo link.
The Popularity Of The Hot Seat Promo Is Increased!
It's a smash it! Running at Omni Casino since February, this promotion has proved to be a massive success among slots fans since the first month it was ran. In fact, it has been such a success that Omni's "days played" average has gone up by 2.38 days per player average since March!
How it works... let the players do the talking:
"...I like that this is not a contest but me that wins it for me."
"How many more days do I need to get to "hot" so I win £330?? Cheers!"
"If i get bonuses i still get credit me hot seat days si?!? Good contest omni peoples"
"Adanna, I only played 16 days this month anyway to credit my the next level? I promise to play at least 20 days next month to make up for it"
"Hi, thanks for the credits! I was pretty "hot" this month! J
Hey Nikki, thank you for the cash, needed it to say the least. hot seat is a saver for me every month! LOL! I will win that $500 one month. I just need the hulk machine to hit me that jackpot! Can you set the machine for me... hint hint. take care..."
How to Win.
It's easy! All players have to do is warm up their seat by playing at their favourite games each day between September 1- 30, 2010 and they WILL win up to $/€/£500! For each qualifying gaming day that they play they will be awarded with one Hot Seat Point. The more days that they play, the hotter their seat gets and the more cash they win. Play 28 days or more during the promotional period they WILL win $/€/£500.00! This is over and above their normal gaming comp points!
PRIZE CHART
Depending on the number of days you play, you will win the following cash prizes:
"Chilly" 5-6 Days Played - $/€/£15
"Warming"' 7-11 Days Played - $/€/£40
"Warmer" 12-17 Days Played - $/€/£105
"Toasty" 18-22 Days Played - $/€/£215
"Hot" 23-27 Days Played - $/€/£330
"JACKPOT HOT" 28+ Days Played - $/€/£500
Video Poker Increases It's Popularity by 9.43% in August.
Video Poker players won extra cash in August and the giveaway is on the way... If you are going to play Video Poker this month it would be stupid not to play at Omni Online Casino in September whereby every Friday and Saturday they DOUBLE royal flush payouts! Omni's VP handle increased a sweet 9.48% in August which was directly contributed to this promotion. It's a no brainier promotion folks. Just play your favourite video poker games at Omni Casino and enjoy encreased rewards.
About Omni Casino
Omni Casino is one of the oldest and most trusted online casino with over 11 years of history. Now the site offers over 100 award-winning Playtech games from classic tables to the variety of slots. New members can claim 100% match bonus up to $100, or
exclusive $200 bonus for playing on slots
.
Related Articles:
1. Valentine's Sunday Promotions, Bonuses, Draws And 5x Rewards At..

(12/02/2010)



2. Holiday Special Bonuses, Promotions And New Marvel Hero Slots..

(11/12/2009)



3. Omni Casino Announced A Free Cash Halloween Promotion For..

(28/10/2009)



4. Peak Entertainment's Online Casinos And SunPoker Moves To..

(21/11/2008)



5. Movie Mayhem Slots, Jewel Quest, Cubis And 11 More Slots At..

(01/10/2008)



6. Spider Man, Wolverine, Sub-Mariner And More New Marvel Series..

(18/09/2008)



All Online Casino News & Gambling Articles