Eric R. From Paris Wins Brand New Smart Car From Prestige Online Casino.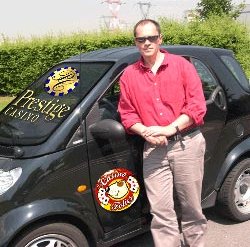 Eric R.
, a loyal player at
Prestige online casino
and a Paris resident was so surprized and excited about his incredible win in recent promotion organized by Prestige Casino and Casino Folies. He won a brand new
Smart car
. "I played at 2 others online casinos and I was ready to try out something new. When I saw this tournament at the Casino Folies forum, I decided that it was the perfect opportunity." the winner tells in his interview with Prestige casino manager.
"I played in different casinos before opening a Prestige casino account. But, I immediately loved the professional side of Prestige Casino. The Designs and Graphics are amazing and the 100% Welcome bonus is really superb! ... I won a really nice amount on Blackjack but I never tried to withdraw as I wanted to win more." Eric continues his story.
When the casino manager called Eric to notify him that he had won the car, the winner "really thought it was a bad joke, but after few minutes, I understood it was real. I couldn't believe it. I was ecstatic."
"Nobody believed me until they actually saw the car. I had comments like "in a virtual casino, you are winning virtual cars"!" continued Eric.
Here is what the winner said about the Smart Car: "From the exterior, it looks like a toy! But once inside the car, you realize that it's an amazing vehicle with many options. It's very easy to drive and it's great for parking as it can fit into the smallest spaces that no other car can fit into. It's perfect for city center traffic as well."
"I grew up in casino town (Aix les Bains) and land based casinos will never be replaceable for me. But now that I live far from all land based casinos, online casinos are the next best thing and the easiest way to access some of the magic and fun of gaming. And best of all, nobody refuses to let me enter the casino wearing t-shirts and shorts!" said the winner about online casinos.
While asked to give some advice to other players who are just waiting for their big win, Eric told: "... winning can suddenly surprise you at any moment and you just never know when it will be. That is why you have to keep on playing and reach for the stars. I hope everyone has the opportunity and privilege like I had."
Eric, Congratulations on your Smart win!
Source: Prestige Casino
Related Articles:
1. Prestige Casino Recently Released Their Website And Classic..

(26/01/2011)



2. Party Poker Players Can Win A Brand New Aston Martin DB9 Coupe..

(29/04/2010)



3. Monster Grand Slam Of Slots Plus Car Giveaway At Fortune Lounge..

(18/08/2009)



4. Prestige Casino Is The First Playtech Online Casino To Offer..

(18/01/2009)



5. Gaming In Local Currencies For Major Playtech Online Casino..

(20/12/2008)



All Online Casino News & Gambling Articles