Party Casino Joins The Worldwide Battle With 'The Terminator' Online Slot Machine.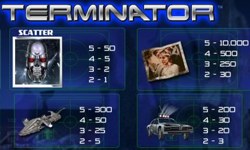 Party Casino announced yesterday the arrival of its own T800 with the launch of 'The Terminator' movie-themed slot game at the world's largest online casino. The Terminator is the latest modern slot machine to launch on Party Casino and joins a collection of download-version online casino games that reads like a list of Hollywood's greatest movies.
Recently the casino added 'Top Gun' feature-rich video slot that is a bit similar to The Terminator. Another "movie" slot The Godfather offers bonus feature, free spin award and progressive jackpot with a minimum value of $500,000. Party Casino pays out over $10 million EVERY DAY to players and continues to expand rapidly.
The Terminator, is a 5 reel, 20 line online slot machine based on the iconic film and it obliterates your usual online gaming experience. The game features high tech robots galore, police cars and everything you would expect from the world famous motion picture. The minimum stake is just one cent, with a maximum jackpot win of $500,000 (alternatively, this will be £500,000 or euros depending on the currency you are playing in) and a player can bet on a maximum of 20 lines, up to an awesome $1,000 per spin.
The Terminator offers two exciting bonus features. In the first bonus game you are the Terminator and your command is to "Terminate Sarah Connor" - you pursue Sarah Connor through a building terminating all targets that stand in your way. All terminated targets give a cash prize. In the second bonus feature you are Kyle Reese, the famous street smart resistance fighter in the future wars. As Reese you must hold off the forces of Skynet for as long as possible, winning a cash prize for each tank and hunter-killer defeated.
A Party Casino's spokesman said: "The machine rose from the ashes of a nuclear fire. The war to exterminate mankind has raged for decades, but the final battle would not be fought in the future. It would be fought here, in our present and on Party Casino."
"Party Casino has already developed a portfolio of slots that reads like a collection of Hollywood greats and there is more to come. We'll be back."
New players at Party Casino can collect 100% sign-up bonus up to $100 free with their first deposit. Download the latest PartyGaming software from PartyCasino website. You can open a single PartyAccount and play on multiple PartyGaming websites like Party Poker, Party Bingo, PartyBets, GameBookers and more.
Terminator T1, THE TERMINATOR, ENDOSKELETON, and any depiction of Endoskeleton are trademarks of StudioCanal. TM & © StudioCanal 2008. All Rights Reserved.
About PartyGaming
PartyGaming Plc is the world's leading listed online gaming company. Founded in 1997, the Group is a constituent of the FTSE 250 share index and the FTSE4Good Index Series, which measures the performance of companies that meet globally recognised corporate responsibility standards. PartyGaming's shares are listed on The London Stock Exchange under the ticker: PRTY. In the year to 31 December 2007, PartyGaming's continuing operations generated revenues of $476.0m and Clean EBITDA of $111.7m.
PartyGaming is regulated and licensed by the Government of Gibraltar and by the Alderney Gambling Control Commission and is certified by GamCare as a responsible gaming operator. For more information, please visit www.partygaming.com.
Related Articles:
1. Three New Video Slots And Blackjack Gold At Microgaming Casinos..

(24/10/2008)



2. New Microgaming Games Release In October At Jackpot Factory..

(02/10/2008)



3. PokerTime Online Poker Room Adds New Game Razz Where Winning..

(27/09/2008)



4. Solomon's Mines, Naughty Ninjas And More New Games In English..

(21/09/2008)



5. First Past The Post And Sir Winsalot New Slots And New Level-Up..

(14/09/2008)



All Online Casino News & Gambling Articles