Bill Unveiled By Senator Frank To Reverse 2006 U.S. Online Gambling Ban.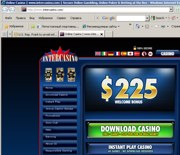 U.S. Representative Barney Frank unveils legislation to roll back a U.S. ban on Internet casino and poker gambling.Legislation aimed at reversing a 3-year-old ban on American residents placing online bets was introduced on Wednesday by U.S. House Financial Services Committee Chairman Barney Frank.
Frank said the new bill would give the U.S. Treasury Department the authority to establish regulations and license online gambling operators in USA.
The Internet Gambling Regulation Consumer Protection & Enforcement Act is supposed to establish a federal regulatory and enforcement framework for online gaming. The US Treasury would also have the authority to revoke or terminate the online gambling license of any operator that violates the law. Enforcement actions could also include fines.
The Massachusetts Democrat said his new legislation "will enable Americans to bet online and put an end to an inappropriate interference with their personal freedom... The government should not interfere with people's liberties," said Frank.
Frank also told he is introducing separate legislation to freeze the implementation of online gambling regulations (UIGEA) under a Bush administration-era law. The 2006 online gambling ban has damaged U.S.-European Union trade ties. Now Democrats are in control in both branches of the U.S. government, but it is still unclear how the Obama administration will handle the issue.
Hopes that the U.S. ban would be reversed pushed stocks of online gaming companies PartyGaming and 888 higher. Shares of 888 gained 7 percent to 104.75 pence, and PartyGaming Plc. rose 6 percent to 276 pence.
"This legislation will be politically contentious and take time to be passed or defeated. During that time online gaming shares are likely to perform well as the option value of a potential return to the U.S. market increases," said Evolution Securities analyst Ivor Jones.
European online gambling firms, online casinos and poker room operators, lost billions of US Dollars in value after Congress made it illegal for banks, e-wallets and credit card companies to make payments to off-shore online gambling sites.
Frank's bill quickly drew criticism from a senior Republican lawmaker opposed to Internet gambling.
"Illegal off-shore Internet gambling sites are a criminal enterprise," said Representative Spencer Bachus, the top Republican on the financial services committee. "Allowing them to operate unfettered in the United States would present a clear danger to our youth, who are subject to becoming addicted to gambling at an early age," said Bachus from Alabama.
Frank said safeguards are in place to make sure wagers are of legal age, protect privacy and security of online gamblers, and combat fraud and money laundering in online casinos and poker sites.
Source: Reuters publications
Related Articles:
1. Online Gambling And Betting: EU Private Industry Leads First..

(04/11/2008)



2. PartyGaming Wins Prestigious eGaming Award For 'Operator Of The..

(23/09/2008)



3. Golden Star Network Casinos Accept US Bets

(28/01/2008)



4. Positive Online Gambling Industry Outlook Moving Forward

(19/10/2007)



5. eCOGRA: World's Largest Study Of The Online Gambler Revealed

(27/01/2007)



6. Online Gambling's Largest Research Initiative To Publish In..

(06/12/2006)



All Online Casino News & Gambling Articles