Strictly Slots Magazine Awards VIP Casino With 'Best Player Reward Program' For The Second Year In A Row.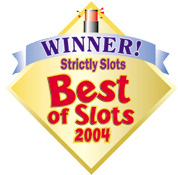 (London, UK)
- For the second year in a row,
VIP Casino
has been honored with the prestigious First Place position of
'Best Player Reward Program' 2005
by leading slot and video poker publication
Strictly Slots
.
7,500 Strictly Slots readers participated in the voting of the reader's 'Best of Slots 2005 Online Awards' survey, awarding VIP Casino top honors over tough competition including
InterCasino
and
Sands of Caribbean
.
Not only did VIPCasino scoop first place for 'Best Player Reward Program', Strictly Slots awarded VIP for
'Fastest Payouts'
. Casino Manager Kate Berkeley explains, "We want to not only treat our customers like VIP's, we want them to have access to their money in a moment's notice. We will go the extra mile to remind our customers that VIPCasino is all about the player, and the best way to say that is by rewarding them and by paying our winners as soon as possible."
"VIPCasino has invested heavily in the 10%/1% Cash Reward Program and the VIP Premium Club which has clearly paid off," says Strictly Slots Editor Adam Fine. "It's the first online casino to make a high-roller incentive scheme available to every player, every month with no wagering requirements, so they truly deserve the title of best reward program."
The Cash Reward Program is recognized as a benchmark in the industry, and is not only praised for its generosity, but for its transparency. Players at VIP Casino recognize the rewards program as the most straightforward on the net, not requiring any minimum deposit or play-through as well as being based on players whole month's play rather than just specific days.
"We use our Cash Reward Program to enforce the fact that our players are all treated as VIP's. This style of incentive is normally reserved for the top 1% of gamblers, but we have brought VIP rewards to the masses. Judging by our players' responses, and this award, I think it works," says casino manger Kate Berkeley.
Strictly Slots will be publishing its results to its 130,000 readership in its October issue.
Source: VIP Casino
Related Articles:
1. VIP Casino wins Best Player Reward Program 2004 from Strictly..

(03/04/2005)



2. $2,000 Caribbean Summer Sizzler tournament in VIP casino

(02/04/2005)



3. VIP Casino win charity auction for a very important cause -..

(05/02/2005)



4. Boost your Winnings at VIP Casino

(28/01/2005)



5. Online Casino Promotions Are Evolving

(25/06/2004)



All Online Casino News & Gambling Articles