Win On Slots Four Days In A Row And Win Up To $4,000 Guaranteed Jackpot At InterCasino.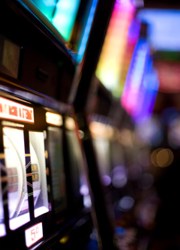 Online casino players can win up to $4,000 by simply making a profit on slots playing four days in a row at InterCasino. Have you got what it takes to survive the thrills of the slots and win big? Play slots this week and find out.
Survivor will run during the following weeks in February:
Week 1: Saturday 30th January - Friday 5th February.
Week 2: Saturday 6th February - Friday 12th February.
Week 3: Saturday 13th February - Friday 19th February.
Week 4: Saturday 20th February - Friday 26th February.
How it works?
You play any of the slots on either Saturday, Sunday, Monday or Tuesday and if you wager at least $500 and achieve a profit on your days play, you will qualify for Wednesday play. The amount that you wager determines whether you will be put into the Gold, Silver or Bronze Survivor bands where the prizes increase accordingly. You can keep track of your total daily wagering by simply clicking on Log Viewer in the casino software.
Minimum Daily Wagering for Survivor Bands: Gold - $4,000; Silver - $1,250, and Bronze - $500.
You continue playing InterCasino slots on Wednesday and Thursday, wagering the minimum amount for the band that you qualified for and if you continue to make a daily profit you'll make it to the big one: Survivor Friday. If you don't finish in profit, you're still a winner as the casino will reward you with compensation bonuses for surviving part way through the week:
Survivor Bands: Gold - Silver - Bronze
Bonus if omitted on Saturday/Sunday/Monday/Tuesday $0 - $0 - $0
Bonus if omitted on Wednesday $100 - $25 - $15
Bonus if omitted on Thursday $200 - $50 - $25
Bonus if omitted on Friday $300 - $100 - $50
Jackpot for surviving Friday $4,000 - $1,250 - $500
If you make it to Survivor Friday you get to play for these big jackpots:
Survivor Bands: Gold - Silver - Bronze
Jackpot for surviving Friday: $4,000 - $1,250 - $500
You simply survive in profit on Survivor Friday wagering the minimum amount (or more) for your qualifying band and you'll win a guaranteed cash jackpot.
Remember that you aim is to be in the money at the end of the day, four days in a row to win jackpots. So try to play till the positive balance providing you meet the minimum wagering amounts per day for your Survivor Band (from $500 Bronze to $4,000 Gold). That's your chance to win guaranteed cash prizes while playing great Cryptologic games at award-winning online casino - InterCasino. Note: new members can claim $225 welcome bonus.
Related Articles:
1. With Over GBP60,000 Given Away In November, Bingo Day Promises..

(18/12/2009)



2. Littlewoods Casino Christmas Promotions - Gifts, Bonuses..

(19/12/2009)



3. Daily Promotions And Cash Bonuses All Days Of The Week At..

(26/09/2009)



4. Get New $750 Free Slots Bonus At VIP Online Casino

(05/08/2009)



5. Four New Games At InterCasino - Play Street Fighter IV, Cleo..

(01/08/2009)



6. The Sound Of Money Summer Promotions At InterCasino And..

(02/07/2009)



All Online Casino News & Gambling Articles