Feldman And Williamson III The Winners At Party Poker's Poker Den Marathon.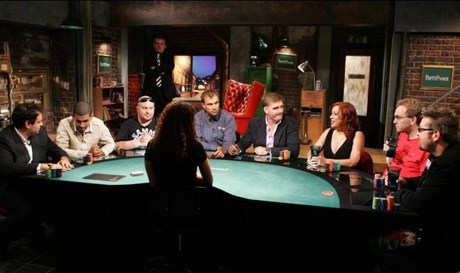 After a marathon session of play in East London, PartyPoker's Poker Den: The Big Game III saw a consistent stream of large pots from start to finish. The big winners ended up being the UK's Andrew Feldman, who built on his recent consistent success online and on the live circuit by cashing out with a profit of $63,350 and Robert Williamson III from the USA, whose marathon stint ended $63,675 in the black.
In the end, 21 poker players took to the table in The Big Game III, which kicked off at 2 PM on Tuesday, September 30th and ran until 9 PM on Wednesday 1st October, providing over 30 hours of exciting play.
Roland de Wolfe, Neil Channing, David Williams, Sammy "Any Two" George, Ilios Kamatakis, Chris Parker, Robert Williamson III and Jennifer Tilly were the first to take to the felt, the majority with a $20,000 starting stack. Channing put in one hell of a shift, playing straight through until 5 PM on Wednesday, picking up $6,450. Hollywood actress Jennifer Tilly cashed to the tune of $12,550 - and she might add that sum to that of her partner, Phil Laak, who entered the game at 10 PM on the first night and stayed until the end to pick up $22,325 cash. One man from the States who didn't go home happy was 2004 WSOP* Main Event runner-up David Williams, who lost $40,000 in the Poker Den. That said, he didn't lose the most - Sammy "Any Two" George was over $50k to the good at one stage, but eventually the rest of the table got on top of him and he ended up losing $78,425.
De Wolfe was involved in a huge pot with Joshua Ladinus in the last 30 minutes of the game, which ultimately saw him leave before the end with a loss of $50,000. One revelation was Germany's Bodo Sbrzesny, who won a cash game rake race for VIP's on PartyPoker.com to secure his place and ended up $22,850 in the black. Sbrzesny's bluffing won plaudits all round with commentator Jesse May exclaiming that "a new star is born." After Sbrzesny showed a bluff with 7-2 off-suit all the players on the table agreed to give $200 to any player who won a pot with the famous hand. And Sbrzesny then proceeded to do it again! Straddling and the first five figure pot was introduced after just 4 hands.
Each player bought-in for a minimum of $10,000 fee, with blinds starting at $25/$50 and all players were free to leave the table at any time they wanted. Party Poker also introduced the "Party Pot," that saw players winning a $1,000 bonus from a selected hand every hour and it certainly pumped up the action. For the first long stretch of the game Neil Channing had almost a monopoly on the Party Pot - he was determined to win every one!
Eddie Hearn, Head of Online Gaming at Matchroom Sport said: "The Poker Den just keeps getting better and better. If you thought season one and two were entertaining you ain't seen nothing yet! Whilst the old guard stood firm at the poker den, new stars were born."
A Party Poker spokesman said: "We gave an exclusive opportunity for one VIP to play in the poker den through a rake race on the site and the winner certainly didn't disappoint. Bodo Sbrzesny is certainly one to look out for in the future."
Coverage of the game, organized by Matchroom Sport, will be shown on Five in the UK early next year and will then be distributed worldwide. Commentary will be provided by Jesse May, Ian Frazer, Matt Broughton, Andrew Feldman, Roland De Wolfe and Roberto Romanello. Details on all hands can be found at http://www.matchroompoker.com/forums
For a clip from PartyPoker Poker Den: The Big Game I see: http://www.matchroompoker.com/promo-den.php For a clip from The Big Game II see http://www.matchroompoker.com/promo-denii.php
PARTYPOKER.COM POKER DEN - THE BIG GAME III Results
Player: $ Buy-in (inc. re-buys) $ Cashed out
Andrew Feldman 40,000 103,350
Robert Williamson III 30,000 93,675
Richard Wheatley 20,000 61,025
Phil Laak 20,000 42,325
Bodo Sbrzesny 20,000 42,850
Jennifer Tilly 20,000 32,550
Chris Smith 20,000 40,000
Juha Helppi 40,000 55,775
Roberto Romanello 10,000 24,400
Joel Nordkist 30,000 14,200
Chris Parker 60,000 28,550
Barny Boatman 30,000 19,000
Ian Frazer 20,000 28,550
Neil Channing 60,000 66,450
Joshua Landis 39,350 41,874
Ilios Kamatakis 10,000 0
Alex Roumeltiotis 25,150 0
David Williams 40,000 0
William Martin 40,000 0
Roland de Wolfe 50,000 0
Sammy George 78,425 0
To celebrate the introduction of its next generation poker product, Party Poker room is pleased to announce that there will be an exclusive freeroll for all members who are already real money players. If you don't already have an account, don't worry! It's a simple process to sign up and Party Poker is offering a great new 100% up to $500 sign-up bonus click here to download software and claim your bonus.
The tournament will take place on Saturday 18th October at 14:45 ET (19:45 BST, 20:45 CET). To register all you have to do is e-mail your name and your Party Poker real money account name (not your screen name) to warrenl@partygaming.com
The freeroll prize pool is currently $10,000 and the payout structures will be standard based on the standard multi table tournament payouts. Early registration is encouraged. The 18th October may be a little way away but you will receive an e-mail to remind you to take part and that you are registered. This tournament is not open to players from the United States.
* World Series of Poker"(R) and "WSOP"(R) are registered trade marks of Harrah's License Company LLC. No license, affiliation, sponsorship, or endorsement is claimed, or should be inferred from the use of these trademarks here. PartyGaming is not licensed by or otherwise affiliated with Harrah's License Company LLC or the World Series of Poker(R), in any way.
Source: Party Poker
Related Articles:
1. Popular Online Poker Site PartyPoker Offers New Website And..

(26/09/2008)



2. PartyGaming Brands Achieves eCOGRA Accreditation And Receives..

(02/09/2008)



3. PartyPoker's Poker Nations Cup Glory For Sweden

(10/02/2007)



4. Party Poker's High Flier Promotion Winner From Sweden Won 25..

(07/03/2006)



5. Take part In Party Poker's $1,000,000 Touchdown Promotion And..

(19/12/2005)



All Online Casino News & Gambling Articles