DWSOP 2005 Tournament At Caribbean Poker Classic - InterPoker Presents Extreme Poker.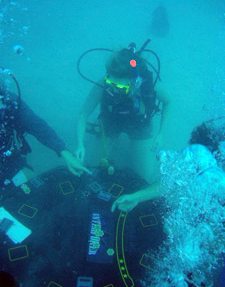 InterPoker is the pioneer of
Extreme Poker
. The first in these series of extreme poker tournaments was held in St Kitts during the
Caribbean Poker Classic 2005
. InterPoker decided that it was time we found out who the greatest underwater poker player in the world was. On November 29th the first of series of extreme poker tournaments that will be hosted by InterPoker over the coming months - the
Deep Water Series of Poker (DWSOP)
was held at the beautiful island of St Kitts in the Caribbean.
The day started early at 8am where Poker Pros Kenna James, Juha Helppi, joined Poker Afficionado Andy Goetsch for some Scuba diving training from the friendliest divers on the island at Kenneth's Dive Centre. Then back to the Marriot Hotel for a quick bite to eat, and we were joined by InterPoker players Peter Marcus, and Louise Halle, along with Phil 'The Unabomber' Laak.
Then on to the Catamaran and out to the dive site to lower the table, cards, chips and players to 10m to play the world's first Underwater Poker tournament.
Play was fast and furious, with players being eliminated if they ran out of chips, ran out of air, or had to surface. Eventually InterPoker's sponsored professional Juha Helppi emerged victorious from this unique poker event to claim the title of
best underwater poker player
in the world.
You can find complete Caribbean Poker Classic 2005 diary at the InterPoker website. Note that InterPoker offers in December miltiple promotions for poker players including "12 Days Of Christmas" and 100% match bonus up to $90 free.
Source: InterPoker
Related Articles:
1. Win Your Seat At 2005 Caribbean Poker Classic Tournament At Sun..

(06/10/2005)



2. Daily $3000 Guaranteed Tournaments at InterPoker

(09/01/2005)



3. The Sound Of Money Summer Promotions At InterCasino And..

(02/07/2009)



All Online Casino News & Gambling Articles