December 2005 Online Casino News:
December 29, 2005. Win Your Seat At The Canadian Poker Championship 2006 At Party Poker.

Book your seat in the Bahamian sunshine and grab your share of $2,000,000 at the Party Poker
Canadian Poker Championship
, Jan. 29 - Feb. 04, 2006. Win a CPC Package in multiple Party Poker's qualifiers from daily $5+$1 qualifier to the Special NL Hold'em $800+$50 tournament (on Saturdays at 2 PM EST). The package includes: $5,000 Buy-in to the CPC, 6 nights in the Atlantis Resort in Nassau and $1,100 spending money.
Read more
December 28, 2005. Progressive Jackpot Slot King Cashalot Approaches The $1,000,000 Mark At Maple Casino.
Progressive Jackpot Slot King Cashalot is nearing the $1,000,000 mark at MapleCasino.ca. With the progressive counter still climbing, one lucky player could become instantly a million dollars richer. This popular 5 reel 9 payline progressive slots game offers for a..
December 28, 2005. Winter Wonderland At InterCasino In December - '12 Days Of Christmas' Promotion.
This December, InterCasino we'll be giving away tons of dollars in their 12 Days of Festivities Promotion. Each day starting from 19th December all the way through to the 30th December there will be a different offer available to all InterCasino players. From Wagering..
December 26, 2005. InterCasino Claims Top Honors In The 2005 Gambling Online Magazine Readers Poll.
The world's most popular online casino and "The Safest Place To Play" claims the award for Best Online Casino for 5th consecutive year in Gambling Online Magazine's survey collected from online players across the Globe. Fortunately for InterCasino, the readers of..
December 22, 2005. Slotland Casino Announced Two Day Christmas Eve And Day Promotion For December 24 And 25.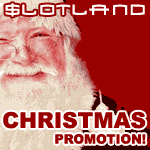 Slotland online casino offers a special two-day promotion for
Christmas Eve & Day
(December 24 & 25). It is titled
Christmas Bonuses
and is designed to keep the players depositing and playing at Slotland. All real players can receive 20% match bonuses if they make deposits during these special days. All slots games at Slotland are connected to the same progressive jackpot that is now at $100,482. Bet max and win big this Holiday Season!
December 19, 2005. Take part In Party Poker's $1,000,000 Touchdown Promotion And Win A Superbonus.
Do you eat, breathe and sleep football? Then get ready to turn that National Football League know-how into cash.. Get ready to win a 'Superbonus'. Take part in Party Poker's $1,000,000 Touchdown promotion and you could win a share of $1,000,000 just for answering a few..
December 18, 2005. The Safest Place To Play Online - InterCasino - Pays Out A Huge $1.77 Million Jackpot To Jon R. From England.
Jon R. has been InterCasino's Customer for two years. After falling on hard times this year, why should his luck change? But Jon's fortune did change for the better and in a big way, and he now stands as the winner of one of the largest jackpot in online casino history..
December 15, 2005. 66 Top Online Casinos Are Now Committed To Player-Protection Standards And Have eCOGRA's 'Play It Safe' Seal.
Ten more quality online casinos have passed probity, fairness and efficiency inspections and have been awarded the eCommerce and Online Gaming Regulation and Assurance (eCOGRA) "Play It Safe" seal by the board of directors of the standards authority. The casinos..
December 15, 2005. Jackpot Madness Voted Best Progressive Site of 2005 by Gambling Online Magazine.
Jackpot Madness (www.jackpotmadness.com) - the world's number 1 online jackpot destination has been awarded the Gambling Online Magazine (GOM) award for "Best Progressive Site" of the year 2005. The annual GOM Awards are determined by readers poll, and are widely..
December 15, 2005. Gambling Online Magazine's Readers Recognize Omni Casino(R) As Best In Payouts Four Years Running.
(WILLEMSTAD, Curacao) - For the fourth consecutive year, the votes that count the most, the players, have indicated that Omni Casino(R), continues to be both the Best and Quickest when it comes to Casino Payouts on the Internet. The honor was bestowed by the readers of..
December 13, 2005. Latest Multi-Hand Blackjack And Plenty Of Slot Action In New December Games From Microgaming.
Microgaming announced the release of four new games this month. December's flagship game is an exciting, feature-rich video slot with a distinctly Jurassic feel and a max jackpot to match at 40,000. Dino Might is big, bold and full of brightly coloured ancient monsters..
December 10, 2005. Play Fast And Aggressive Online Poker In New Caribbean Sun Poker Tournaments On Saturdays.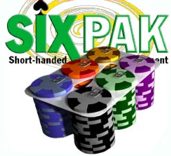 Caribbean Sun Poker now hosts
Saturday SixPak tournaments
. What is a
SIXPAK
you ask? Think of it like Poker on speed. Regular poker rules apply, but you have to think quicker and play more aggressively in order to be on top. Six people to a table and only one will be the best. Over $50k GTD with 3 £20+2 SIXPAKs on Saturdays. Do you want to learn more about Sixpak online poker tournaments?
Click here to read full article
.
December 8, 2005. 78 Winners To Share $30,000 In Prizes In December At The River Belle Casino.
Once again The River Belle online casino offers its players all they want this Holiday Season with more chances to win. 78 Winners to share $30,000 in prizes through 4 promotions in December. December 1- 21: $500, $1,000, $1,500 - Choose your Gift! Winners who opted-in..
December 7, 2005. AusVegas Online Casino Offers New Slots And Roulette Games To The Holiday Season.
AusVegas online casino has recently released several new 5 reel slots games including Lap of Luxury, 20,000 Leagues, Eastern Dragon and Naughty Ninjas as well as their newly redesigned Roulette game. Most of the AusVegas games have minimum bets of just 1 cent, so that..
December 7, 2005. Top Watchdog Award For eCOGRA In Annual Gambling Online Magazine Readers' Poll.
The online casino and poker room standards authority eCOGRA (eCommerce and Online Gaming Regulation and Assurance) was voted the gold medal for Top Watchdog by over 27,000 players voting in the 2005 Gambling Online Magazine annual awards this week. Announcing the..
December 4, 2005. DWSOP 2005 Tournament At Caribbean Poker Classic - InterPoker Presents Extreme Poker.
InterPoker is the pioneer of Extreme Poker. The first in these series of extreme poker tournaments was held in St Kitts during the Caribbean Poker Classic 2005. InterPoker decided that it was time we found out who the greatest underwater poker player in the world was...
December 3, 2005. Fortune Room Holiday Promo - 100% Money Back Guarantee.
Fortune Room Online Casino offers a groundbreaking limited offer that rewards players with 100% of their cash back if they lose while they play. The prestigious Fortune Lounge Group is forging ahead with a unique limited time offer that is sure to create a stir amongst..
December 3, 2005. Fortune Room Holiday Promo: 100% Money Back Guarantee! Players get 100% cash back if they lose.
Fortune Room Online Casino offers a groundbreaking limited time offer that rewards players with 100% of their cash back if they lose while they play. No questions asked, no hidden fees! That's one of the most unique industry offer - players have zero risk playing..
News & Articles Index
Previous Monthly Casino News:
Nov '05
Oct '05
Sep '05
Aug '05
Jul '05
Jun '05
May '05
Recommended: Bonuses | | Casino Payouts