Jackpot Madness Voted Best Progressive Site of 2005 by Gambling Online Magazine.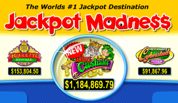 Jackpot Madness
(www.jackpotmadness.com) - the world's number 1 online jackpot destination has been awarded the
Gambling Online Magazine (GOM) award
for
"Best Progressive Site"
of the year 2005. The annual GOM Awards are determined by readers poll, and are widely considered to be the most coveted awards in the online casino industry, Jackpot Madness officials said. 50,000 GOM readers voted this year for their favorite online gaming sites in 35 categories.
Commenting on the GOM Award, spokesperson for Jackpot Madness, Francine Haliva said, "The receipt of this award is especially important as it is a people's choice award. The players and editors have spoken and Jackpot Madness has come out on top! The Jackpot Madness portal was designed with the player in mind. In consideration of the multinational nature of our players and in recognition of their diverse needs, multiple language and currency options were introduced in 2004. It is especially rewarding when it is the players themselves who acknowledge our efforts as expressed by this award."
With links to over 85 first-rate casinos, Jackpot Madness is recognized throughout the industry as the largest online progressive network. The GOM award confirms this recognition. With 14 different progressive games offered via the network of
Microgaming casinos
, Jackpot Madness is the world's largest online progressive network. This year alone, Jackpot Madness paid out over $35 million to over 950 jackpot winners, including two winners that became instant millionaires. To date, over $181,000,000 has been paid out, each in one lump cash sum.
Haliva continued, "All the progressive games are highly acclaimed and continue to attract the lion's share of the online casino industry. The GOM award further confirms this recognition. Jackpot Madness offers the widest variety of progressive jackpot games, including 3-reel and 5-reel slots, blackjack, roulette, and video poker games. Each progressive jackpot constantly grows until it is won, allowing for large cash jackpots at a relatively low cost per play.
About Jackpot Madness
Jackpot Madness, run by Jumbo Jackpots of Curacao, is the world's largest online progressive network. All the jackpots won on the casinos providing these games are offered through full, direct cash payouts - the only games on the Internet offering this benefit. The goal of the portal is to provide jackpot enthusiasts with a single destination offering a wide choice of progressives, featuring frequent payouts and record-breaking jackpots. The jackpot totals are "live" and Jackpot Madness provides constantly updated information.
You can find all the jackpots at all Microgaming online casinos. Established in 1994, Microgaming is a leading supplier of online gaming solutions. Today over 85 casinos offer Microgaming software including 14 progressive jackpot games.
Source: Press Release Of Jackpot Madness
Related Articles:
1. Jackpot Madness Pays Out A Record-Breaking $4.9 Million In..

(17/11/2005)



2. Edward R. Wins Over $1.4 Million On Major Millions Progressive..

(24/02/2005)



3. Medieval Times and Jungle Adventures in Two Exciting NEW..

(31/08/2004)



4. Jackpot Madness Goes Global

(29/10/2003)



5. $100,000,000 CASH Paid to Date on Jackpot Madness - New Record

(20/08/2003)



6. Jackpot Madness Wins 2002 Best Progressive Games' Award By..

(09/11/2002)



All Online Casino News & Gambling Articles