The Safest Place To Play Online - InterCasino - Pays Out A Huge $1.77 Million Jackpot To Jon R. From England.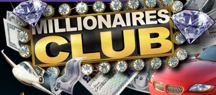 Jon R.
has been InterCasino's Customer for two years. After falling on hard times this year, why should his luck change? But Jon's fortune did change for the better and in a big way, and he now stands as the winner of one of the largest jackpot in online casino history -
1.77 million dollars
richer and well on his way to a very merry holiday season.
As 1000's of InterCasino customers watched the jackpot climb to an unprecedented amount on
Millionaires Club Progressive Slot
, Jon R. of Essex, England, didn't think he stood a chance at winning this huge sum.
The enormous jackpot comes just five months after another huge payout from the world's oldest and most awarded online gaming and casino site. Another InterCasino customer Richard R. became the first member of the Millionaire's Club in July of 2005, when he claimed $1.067 million playing the slot at InterCasino. The jackpot is also back up to about $950,000 and is waiting for its next Big winner.
"I know it sounds unbelievable but I really felt I was going to win the jackpot, winning it is definitely going to change my life" said the winner. "At the recommendation of my wife, I may buy myself an Aston Martin for Christmas, and then take the entire family out shopping." added Jon R. "I am so grateful to InterCasino for the opportunity to win such a tremendous jackpot. I will definitely put it to good use."
Casino Manager Ryan Hartley said, "The entire London's office had been abuzz for the past two weeks as the jackpot climbed to a record height, and we are utterly delighted to pay this jackpot to Jon. In speaking with him over the phone, he has been extremely gracious and courteous."
Developed by the largest publicly listed gaming company, CryptoLogic, Millionaire's Club slot can be found on the industry leading site - InterCasino, as well as other Cryptologic online casino sites like
VIP casino
or
Omni casino and sportsbook
. Unlike several other online casino sites, InterCasino pays out the jackpot immediately and in full, a practice appreciated by their thousands of regular players who value a land-based gaming feel while playing online. Jon's record-breaking jackpot will be no exception, as he'll receive a check for his entire winnings later this week.
Source: InterCasino
Related Articles:
1. $1,067,836 Progressive Jackpot Is Awarded To Lucky Slot Player..

(30/07/2005)



2. WagerLogic Debuts the Internet's First Multi-Currency Million..

(24/01/2004)



3. The Biggest Online Jackpot So Far - $85,801 Was Hit By Player..

(23/03/2001)



4. NETeller Is The Preferred Payment Option At InterCasino

(20/11/2005)



5. $5,000 Scratch Cards Competition At InterCasino In September

(13/09/2005)



6. A New Bonus Information - Get $90 Free In September From..

(08/09/2005)



All Online Casino News & Gambling Articles