Latest Multi-Hand Blackjack And Plenty Of Slot Action In New December Games From Microgaming.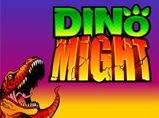 Microgaming announced the release of four new games this month. December's flagship game is an exciting, feature-rich video slot with a distinctly
Jurassic
feel and a max jackpot to match at
40,000
.
Dino Might
is big, bold and full of brightly coloured ancient monsters framing a slew of features including 2 great bonus feature opportunities and Wild, Multiplier and Scatter symbols - this game really does have it all.
The top quality graphics carry a prehistoric theme loaded with fossils, amber-entombed insects, some very large and fearsome looking dinosaurs and flying, toothy leather nightmares, with an innovative Hi/Lo lighting contrast across the reels.
The latest gaming technology powers a whole range of enthralling features - the triggersaurus icons on a line open up line bonuses to boost player wins, and a separate bonus feature gives the player a selection of 21 panels from which to match symbols for more rewards... and a double-your-money hidden multiplier, too.
Fans of fast-action multi-hand blackjack will find that the latest in Microgaming's game style series fits the bill.
Multi-hand Atlantic City Blackjack
is the second in this popular series (you can already find Atlantic City blackjack version in Microgaming online casinos) and one that promises all the excitement of an American hole card game enhanced by a player-capability to generate action on five hands at once on a traditionally single hand game. The new game is played with 8 standard decks of 52 playing cards that are shuffled before each hand (game).
Like its predecessor the feel is slick, fast and smooth, with the latest gaming software technology underlying crisp, realistic graphics that take the player into a virtual gambling ambience with all the added convenience of online gambling like the outstanding Viper platform with its many player assists.
Gift Rap
is a 25 line, 5 reel video slot that packs a real punch in terms of entertainment, action and rewards, all wrapped in a fun Hip Hop style with a stunning 30,000.00 jackpot boosted by another 16,125.00 in bonuses. And there are plenty of major Scatter, Wild and other bonus opportunities here, especially in the exciting Gift Grab where fast-acting players can collect over 32,000 coins.
Bulls Eye
is a straightforward 3 reel, single payline, 3 coin game that gets right down to business with an English pub feel and a theme that plays on the popularity of darts to help players reach the many rewards available.
Play all new games at the following recommended
Microgaming online casinos
.
Source: Microgaming (www.microgaming.com)
Related Articles:
1. AusVegas Online Casino Offers New Slots And Roulette Games To..

(07/12/2005)



2. Speed, Excitement And Humour The Keys To Latest Games Releases..

(28/11/2005)



3. Hot Slots, Big Poker and New Roulette in Latest Game Releases..

(27/10/2005)



4. VIP Casino Added Nine- And Twenty-Line Slots Plus New Scratch..

(15/10/2005)



5. Three New Slots And Double Joker 50 Play Power Poker Now..

(29/09/2005)



6. Four New Games In August Microgaming Releases

(29/08/2005)



All Online Casino News & Gambling Articles