Win Up To EUR100 Million This Football World Cup From Gamebookers And PartyBets.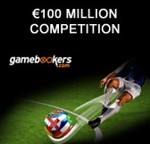 This year sees the return of the Football World Cup and popular sportsbetting sites are giving this massive event the utmost importance. There is a dedicated area on Gamebookers and PartyBets websites and this will have up to date information on the tournament and unique daily offers. The number you should have in mind this summer is 100. 100 Million EURO to be won by online players.
€100,000,000 Prize for players
World Cup mini-site on PartyBets & Gamebookers will be the one-stop-shop for all players as it will contain all the information on the participating teams, featuring fixtures, group stages and knockout stages. If this interactive portal doesn't wet the appetite then their Predictor surely will.
The €100 Million South Africa Predictor is going to get hearts racing as soon as the opening game kicks off. Available on the bets websites from May 18th until July 11th it will keep players interested in every single game as there is big money to be won. And most importantly, the predictor is FREE to enter and users can submit their predictions game by game, until last minute before start.
Prize pools:
€ 100 Million - 64 matches correct
€ 1 Million - 61-63 matches correct
€ 500,000 - 55-60 matches correct
€ 250,000 - 49-54 matches correct
€ 100,000* - 41-48 matches correct
€ 50,000* - 33-40 matches correct
€ 35,000* - 26-32 matches correct
€ 25,000* - 21-25 matches correct
€ 20,000* - 16-20 matches correct
€ 15,000* - 10-15 matches correct
* Amount to be issued as a bonus which needs to be rolled over 5 times at odds of 2.0 and above.
Aside from the excitement of the Predictor there are daily specials to make every game that bit more exciting!
The stake back promotions will be a daily feature on the site. They will be in the same format as the Champions League and Europa League promotions that have proved popular this season at Gamebookers And PartyBets. Player does X and if Y happens the site refund Z. Scenarios will cover the entire day of fixtures with changing theme and the refund amounts.
Related Articles:
1. Microgaming Annonced Four New Games Releases - 3 Slots And 3..

(18/05/2006)



2. Players Tackling Jackpot Poker Games Can Catch Cash and A New..

(07/09/2008)



3. Football Frenzy Promotion At Crazy Vegas's Group Of Online..

(27/04/2008)



4. Party Poker Players Can Win A Brand New Aston Martin DB9 Coupe..

(29/04/2010)



5. Race To The Top Of The Circus For Your Share Of $150,000 On..

(09/04/2010)



6. Valentine's Sunday Promotions, Bonuses, Draws And 5x Rewards At..

(12/02/2010)



All Online Casino News & Gambling Articles