Anti-Online Gambling Law Went Into Effect On June 1st, But Changes To Gaming Industry Are Unlikely.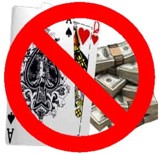 After months of debate and delays, the day has finally arrived... on June 1st, the United States' anti-online gambling law, the UIGEA (the Unlawful Internet Gambling Enforcement Act of 2006) officially goes into widespread enforcement. A lot of online casino gambling and Internet poker industry speculation can be found throughout the Web as people wonder: Is this going to shut down online gambling?
No, it most likely won't. The online poker business will go on as usual. Microgaming online casinos made some re-arrangements and offer U.S. players a new similar software and support. It's important to understand that for American players: Online poker and online gambling is not illegal.
Is Internet Gambling illegal? Well, obviously, the answer to that important question depends on where you live. But the short answer is: No. Some countries has fifferent laws concerning gambling online but if it comes to USA, playing at online casinos and poker rooms is not prohibited on the federal level. Some States has extra laws that prohibit online gambling on the players' side, but UIGEA itself only applies to financial organizations and banks that perform financial transaction for so-called "Unlawful Internet Gambling".
But does that mean anything to the online gambling and Internet poker industries - which weren't previously, and currently still technically aren't - operating illegally? Nobody really knows for sure what will happen today, but plenty of people are speculating. "This speculation ranges from no major impact at all to a complete lockdown of US accounts," Flop Turn River explains.
Most industry figures are confident that the regulations won't amount to problems for the industry. John Pappas, the executive director of Poker Players Alliance (PPA), has called the UIGEA "a bump in the road", and predicted that "'new payment methods will emerge' before the game itself is completely legalized," according to Daily Finance.com.
"I don't think it's going to be the end of Internet poker as we know it," Pappas was quoted in California's Press Enterprise.
Technically, that's absolutely true. The UIGEA only imposes penalties for financial organizations that process payments for the online gambling industry; it doesn't label the act of online gambling or playing poker/slots on the Internet as illegal.
But it's understandable that a lot of players don't really understand this. It's assumed that the UIGEA has made the entire act of gambling online illegal, that is not true.
Nevertheless, many international online gaming brands refuse to do business in the United States from June 1st for fear of being ensnared in the UIGEA's legal tentacles, even though it's unlikely.
Some have even speculated that, since the UIGEA doesn't really make online gambling illegal, it's simply a political ploy designed to drive foreign online gambling brands out while lawmakers craft new laws in USA that would deliver the multi-billion dollar online gambling business directly into the hands of American companies.
It's not so far-fetched, really, when you consider that California's new online gambling regulatory proposal specifically states that only Californian companies will be able to enter this lucrative gaming market.
What are lawmakers like Barney Frank and Jim McDermott really proposing with their pro-online gambling bills? Would changes to the online gambling laws drive out the international online gambling brands? Or would it make the iGaming business better by creating stronger brands with stronger ties to players on a regional level? All that is debatable, and it should be debated, as we continue to watch lawmakers try to fix or repeal the UIGEA.
But in the meantime, don't forget: Online gambling is still legal in the United States and Canada.
Microgaming on UIGEA
Microgamings since UEGA have been in constant battle weighing up the risks vs. rewards of remaining in the US market. They have tweaked their model over the last few years in attempts to minimise their risk but retain their US players base. From the 1st June 2010, most Microgaming powered casinos (see for example Fortune Lounge group casinos) will essentially be operating two versions of gaming software;
1. The current version of Microgaming software, which will be offered to all new and existing non US players. This represents no change to the current environment and will be subject to normal game add-ons and ongoing development by Microgaming.
2. A previous version of Microgaming software - which has been acquired by another vendor and will be offered to all existing US players. The only difference to current players is that the software is of a previous version and will not bare the powered by Microgaming logo as it's now owned by another software supplier. This version of the software in the short term excludes certain Microgaming Licensed branded games and progressives, however it is envisaged that this will change in the future.
This move confirms Microgaming's longer term commitment to the US market and acknowledgement that it's a market that one cannot walk away from.
About UIGEA
The Unlawful Internet Gambling Enforcement Act (UIGEA) was passed by U.S. Congress in 2006. Several publicly listed online gaming industry companies took it so seriously that they ceased taking bets from American players before even having read the Statute. What is UIGEA all about? In short, the law prohibits Acceptance of Any Financial Instrument for Unlawful Internet Gambling.
To establish that an individual or entity is in violation of the UIGEA, it must be proven that,
(1) A "person" was engaged in the business of betting or wagering;
(2) That person knowingly accepted a financial instrument or proceeds thereof; AND
(3) That instrument was accepted by the person in connection with the participation of another person in "unlawful Internet gambling."
The problem thus becomes, what constitutes "unlawful Internet gambling?" The law implies that "bet or wager is unlawful under any applicable Federal or State law in the state or tribal lands in which the bet or wager is initiated, received, or otherwise made." Thus, the UIGEA is simply a focused enforcement of the current Internet gambling laws in existence within specific jurisdictions (State laws). The one thing UIGEA has not done is ban online gambling...
Related Articles:
1. Bill Unveiled By Senator Frank To Reverse 2006 U.S. Online..

(08/05/2009)



2. Positive Online Gambling Industry Outlook Moving Forward

(19/10/2007)



3. NETELLER Is Going To Return Funds To U.S. Customers Within The..

(21/03/2007)



4. NETeller Quits US Market. There Are A Lot Of Alternative..

(18/01/2007)



5. Online Casinos Still Welcome Players From USA

(19/10/2006)



6. The Unlawful Internet Gambling Enforcement Act (UIGEA) of 2006..

(13/10/2006)



All Online Casino News & Gambling Articles