Hot Online Casino Promotions At Jackpot Factory This August.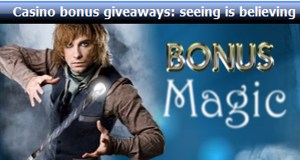 All Slots and All Jackpots casinos keep it fresh with a different promotion running each week in August. Here's this month's schedule:
Bonus Magic - July 28-August 9th, August 24th-30th
You've got to see it to believe it! Free bonus giveaways magically every hour at Jackpot Factory Casinos! Be online & playing for your chance to win. Just deposit and play 50 credits at the All Slots online casino (or other Jackpot Factory members) during the promotion period. If you're online and playing at the time of the drawing, you could be a winner!
The winners of the first part of the Bonus Magic promotion have already announced: Chambon G., Kalia P., Harry F., Sylvia D., Renzo D., Denis W., Louise S., Ron W., Jean-michel H. and Amanda S.
Slots All Star Competition August 10th-16th
Spin to the top of the All Star Scoreboard by playing any slots game! Players earn points for all their slots play as they compete to win the $1,000 top prize ($500 for the second place, $250 for the third place...).
How do I win? Deposit and play 50 credits on any slot game to start earning points for your play. The top 3 winners aqcuired 6972, 4133 and 4078 points, correspondingly.
Good Deal August 17th-23rd Got an ace up your sleeve? Get a good deal and turn your cards into winnings in this exciting $5,000 scoreboard competition at All Slots! Your video poker and table game play this week could win you a share of $5,000 in this exciting scoreboard competition.
How do I join? Deposit and play 50 credits on any eligible video poker or table game at one of the Jackpot Factory Casinos to start earning points for your play. You'll earn 1 point for every 50 credits you wager over the promotion period. You'll earn 1 point for every 50 credits you've won or lost by the end of each day. The highest score right now is about 3600 points.
Join one of the participating online casinos to win your share of the magic prizes in August:
All Slots
and All Jackpots.
Related Articles:
1. Summer Festivals At Featured Playtech Casinos - Two Week Online..

(12/08/2010)



2. With 3 Extra New Games In July, All Slots Casino Will Offer..

(07/07/2010)



3. The 400 Euro Welcome Bonus For German Players At All Slots..

(03/07/2010)



4. The $50,000 World Cup Draw Kickoff Offers Weekly Bonus And..

(09/06/2010)



5. All Slots Online Casino Adds 2 New Soccer Safari And Voila!..

(05/06/2010)



6. Win Up To EUR100 Million This Football World Cup From..

(21/05/2010)



All Online Casino News & Gambling Articles