September 2008 Online Casino News:
September 30, 2008. Fortune Lounge's International Casino Games 2008/09 Is The Most Popular Online Casino Promotion Today.
Fortune Lounge's 2008/2009 edition of the annual International Casino Games promotion is in full swing after its start in August, and based on the tremendous success of the 3 previous events, the International Casino Games IV (ICG) promises to be bigger and even..
September 27, 2008. PokerTime Online Poker Room Adds New Game Razz Where Winning Low Is The Way To Go.
In the middle of September PokerTime poker room added a new game to its repertoire of online poker entertainment, called Razz. With the eye on broadening online poker enthusiasts' horizons, PokerTime has included a new Poker variant to their arsenal. The game of..
September 26, 2008. Popular Online Poker Site PartyPoker Offers New Website And Lobby With New Features.
Party Poker is delighted to announce that they have launched an all new fantastic version of its popular online poker site. Make no mistake, this is no botox - general anaesthetic was needed as despite all the improvements the room have made over the years they..
September 23, 2008. PartyGaming Wins Prestigious eGaming Award For 'Operator Of The Year' And 'Socially Responsible Operator' 2008.
We're proud to declare that PartyGaming has been named 'Operator of the Year' for the second time in three years at the annual eGaming Awards for the online gaming industry. In addition to winning the top award, PartyGaming has also been awarded the coveted..
September 21, 2008. Solomon's Mines, Naughty Ninjas And More New Games In English Harbour Casinos.
English Harbour group of online casinos has undergone an extreme makeover. They offer new online casino websites and new slot games. Go for GoldThis 3-reel single payline Olympic-inspired bonus slot machine brings home the Gold Medal spirit. Play the exciting..
September 19, 2008. Freeroll Tournament This Weekend At Belle Rock Entertainment Casinos.
Freeroll Tournament The Cause and Effect foundation are doing a wonderful job in raising funds and awareness for Breast Cancer. Belle Rock Entertainment is supporting this foundation by running a Freeroll tournament this weekend and 100% of the money they raise..
September 18, 2008. Spider Man, Wolverine, Sub-Mariner And More New Marvel Series Slots At Omni And CS Casinos.
Omni Casino and CS Casino have just released a brand new suite of exciting and captivating video slots games based on the legendary Marvel Comics series including star-studded appearances by the Incredible Hulk, Spider Man, Wolverine, and Sub-Mariner. The new..
September 14, 2008. First Past The Post And Sir Winsalot New Slots And New Level-Up Video Poker At Microgaming Online Casinos.
Three new games join Microgaming online casinos this September. Waiting in the lobbies now, online casino players can enjoy two top video slots and quality video poker. First Past the Post Always a few furlongs ahead of the competition in new video slot machine..
September 13, 2008. Non-Traditional Bets For All Kinds Of Gamblers.
People today like to bet on all kinds of things. Though the favourites in online casinos are games such as BlackJack, Roulette, Craps, Slots, Video Poker and the like, there are some other, shall we say, creative gamblers to make. This month we explore some of those..
September 11, 2008. Party Casino's Evolution Continues With Live Dealing.
Party Casino, the world's largest online casino owned by PartyGaming, has entered into an agreement yesterday that will enable online casino players to enjoy the authentic 'live casino' experience of playing roulette, blackjack and baccarat table games. The..
September 9, 2008. $250,000 Super Saturday And 50 Guaranteed Seat Satellite Tournament At Doyles Room.
Take advantage of DoylesRoom's unbelievably affordable 50 guaranteed seat satellite tournament this Saturday at 2pm ET (19:00 BST) and win your way to the monumental Super Saturday $250,000 Guaranteed Tournament on September 27th. Play your cards right and your..
September 7, 2008. Players Tackling Jackpot Poker Games Can Catch Cash and A New Car At Commerce Casino.
Californian Commerce Casino offers its players great insurance opportunity from bad beats and a chance to win a new car in prize draw. Usually a "bad beat" is something poker players dread. But suffering such a setback at Commerce Casino during the 2008 professional..
September 5, 2008. $500,000 World Series of Slots Free Slot Tournament At All Slots Casino Continues.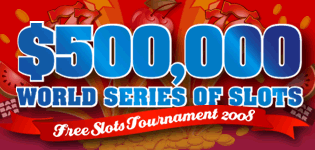 A ten-week series of slot tourneys will excite online casino players with $500,000 to be divided among more than 800 winners at
All Slots online casino
. The grand prize will tip the scales at
$100,000
in cash for one lucky winner in the final event. Plus nine $10,000 prizes in multiple weekly tournaments from August till November 2008. All Slots online casino is No. 1 in the Microgaming Slots Tournament Network, with more tournaments and more players than any other casino. New players enjoy up to €/$5,000 in welcome bonuses including 100% bonus up to $200 on the first deposit.
September 2, 2008. PartyGaming Brands Achieves eCOGRA Accreditation And Receives 'Safe and Fair' Seal.
PartyGaming, the world's leading listed online gaming company known with once most popular roker room Party Poker, is proud to announce that 3 of its major gaming sites have passed the stringent eCOGRA accreditation, testing and inspection regime for online casinos..
September 1, 2008. Monthly Horoscope For August From Slotland Online Casino: Play The Right Games And Choose The Lucky Numbers.
We are happy to present you a Monthly Horoscope from Slotland online casino. You will know your lucky numbers for August and which games you need to play for the best results. Click the link with your Star sign to figure out your horoscope. Slotland casino has..
News & Articles Index
Previous Monthly Casino News:
Aug '08
Jul '08
Jun '08
May '08
Apr '08
Mar '08
Feb '08