International Casino Games 2005/6 Grand Prize Winner Debbie H. Took Home $250K.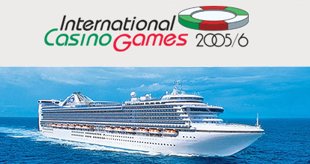 The
International Casino Games 2005/6
were thrilling, exciting, generous and such downright fun, that this mammoth promotion will be repeated in 2006/7.
Debbie H.
became the first ICG winner and sailed home with a check for $250,000 in cash.
The history of the International Casino Games
Launched in July 2005, the International Casino Games was billed as the biggest online gaming event in the world. For six months,
Fortune Lounge
ran exciting weekly promotions. In each of these promotions, players not only won generous amounts of free credits, they also won double tickets to the International Casino Games finale. In keeping with the enormous proportions of the International Casino Games, there were a total of 100 double tickets given away. Not to mention the $250,000 grand prize and the $47,500 in consolation prizes at the final event. Altogether, Fortune Lounge gave away $1.5 Million in prizes during the International Casino Games. And the best part is... they're doing it all again in 2006/7!
The Cruise of Fortune
The final event was held onboard the
Caribbean Princess
. Each finalist won double tickets to 7 nights onboard this luxury cruise liner. When the finalists weren't playing for first place in an exciting round of onboard slot tournaments, they were being wined and dined by the Fortune Lounge casino hosts. Private beach parties, day trips to exotic islands and copious amounts of local rum... the finalists were also treated to true Fortune Lounge hospitality in VIP style.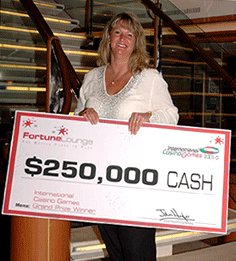 The Ultimate Prize and the Honeymooning Winner
After nail-biting rounds of onboard slot tournaments, Debbie H. claimed the fantastic first prize of $250,000 in cash. For Debbie, who also happened to be on a blissful honeymoon, the win made a substantial change to her life. She now has the means to open her own business and she says that winning $250,000 meant easing the pressure off her husband who works very hard to support their family.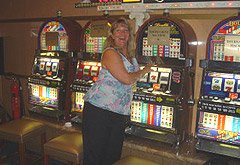 Debbie H. shows off her winning slot machine.
95 lucky players and their guests set sail for a weeklong island cruise on the stunning Caribbean Princess. Soaking up the island vibes, drinking cocktails, snorkeling and tanning... and at the end of these wonderful cruise - Fortune Lounge VIP host Nick hands the winner, Debbie H. the check for a quarter of a million dollars.
Source: Fortune Lounge
Related Articles:
1. Part 2 Of The Captain's Report From The Caribbean Cruise Of..

(07/03/2006)



2. The Captain's Report From The Caribbean Cruise Of International..

(28/02/2006)



3. New Fortune Lounge Slots Game Has Launched - The International..

(04/11/2005)



4. International Casino Games 2005-2006 Summary, Latest Winners..

(05/10/2005)



5. International Casino Games And Hit Triple Platinum Promo At..

(03/09/2005)



6. Over $1.5 Million In Prizes Are Waiting At International Casino..

(31/08/2005)



All Online Casino News & Gambling Articles