Vegas Loves Ya Baby Promo Winner Thomas B. Drive His New Lexus RX 350.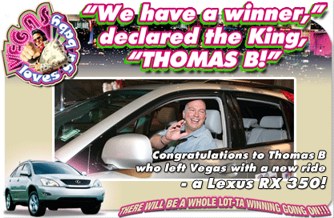 Congratulations to Thomas B who left Vegas with a new ride - a Lexus RX 350! The 2-month long Fortune Lounge's
Vegas Loves Ya Baby
promotion reached an electric end on Saturday, July 01. The 25 finalists were hosted at a gala dinner in the MGM Grand in Las Vegas. A lucky draw was held and Thomas B won the grand prize - a
Lexus RX 350
!
Each finalist had a 1 in 25 chance of winning the sparkling new Lexus RX 350, as well as other fantastic consolation prizes!
On Saturday, July 1 the events were kicked off with a Welcome Cocktail Party at Zuri, where players were greeted by their Fortune Lounge hosts and mingled with the other excited finalists.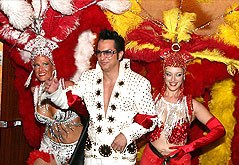 Once acquainted, the party then moved to the MGM Conference Centre where the lucky draw was hosted, complete with showgirls and an Elvis impersonator! Elvis provided much entertainment has he wiggled his hips and really got the crowd going. Finalists selected envelopes hidden within the Lexus RX 350 - one of which contained the words "Congratulations. You have won the Lexus RX 350!"
As everyone opened their envelopes simultaneously, Thomas B literally jumped out of his seat as he realized he had the winning envelope. He was the ecstatic winner of the luxury SUV and couldn't be more pleased with his new car. A further $20,000 in consolation prizes was dished out to the other lucky finalists.
Everyone was then invited to watch the spectacular 'Ka' show at the Cirque du Soleil Theater. Players and hosts alike were totally awestruck by this amazing show. Next it was off to the West Wing Wine Bar at the MGM Grand to carry on the celebrations...
Source: Fortune Lounge
Related Articles:
1. Fortune Lounge Announced 'Christmas In July' Promotion - Win..

(08/06/2006)



2. The 9-week Vegas Loves Ya Baby Promotion At Fortune Lounge..

(05/05/2006)



3. What Players Say About Fortune Lounge And Their Online Gambling..

(02/05/2006)



4. The Fortune Lounge Group Of Online Casinos Proudly Present The..

(18/04/2006)



5. Some Players Feedback About Caribbean Cruise Organized By..

(15/04/2006)



6. International Casino Games 2005/6 Grand Prize Winner Debbie H...

(23/03/2006)



All Online Casino News & Gambling Articles