October 2004 Online Casino News:
October 27, 2004. InterCasino Releases Their Next Generation Gaming Software.
London, UK - Top International online casino, InterCasino.com has just launched the most sophisticated gaming software platform now available on the Internet. Using CryptoLogic's newly developed Version 6 software, InterCasino.com has added a host of new features and..
October 26, 2004. Lucky Emperor Online Casino Goes Viper.
The very latest and most technologically advanced gaming software has now been launched on
Lucky Emperor Casino
, offering online players a continual stream of fresh, exciting and appealing games. Microgaming continue to pioneer online gaming, breaking new ground in global markets and their new VIPER software has been developed to meet international player demand. Behind the razor sharp, high quality graphics and fast gameplay this state-of-art gambling software empowers the player with a host of optional assists, features and analytical information to enhance the gambling experience.
October 25, 2004. Winner Is Knocked Off Line, But Money Is Still There! Vivian P. Wins $58,198.60 On Cash Splash.
Vivian P. won $58,198.60 on Cash Splash progressive slot machine on October 25, 2004 at Lucky Nugget Online Casino. Cash Splash is a popular 3-reel, three-coin, single pay-line progressive slot machine game available at all Microgaming powered casinos. Try out new..
October 20, 2004. Leaving Las Vegas For Slotland - Reviews Of Online Gambling Benefits.
I recently had an opportunity to visit Las Vegas. This was my first trip back to a casino-laden town since finding the great online gaming to be had at $lotland, about 4 years ago. Of course, once I discovered $lotland and the wonderful benefits of playing online, I..
October 18, 2004. Reviews of new Microgaming progressive slot games are added.

New
King Cashalot
and
Tunzamunni
progressive slots jackpots are added to www.Online-Jackpots.biz. King Cashalot is the new MicroGaming Viper progressive slot. It is a 5 reel, 9 pay line and 5 coins game. King Cashalot has scatter symbols and wild multipliers giving the player even more chances win big. This is the first progressive video slot with a 0.05 credit denomination. Once awarded, this progressive re-sets to 100 000 credits - even the second highest jackpot on the game is 75 000 coins at max bet.
October 16, 2004. 'William H' wins 281,865 progressive jackpot on Rags to Riches slot at InterCasino.
Actually, this is not quite true, as it was in fact 'William H's wife who decided to play a few more spins on Rags to Riches while her husband called it a night. Just as 'William H' had gotten into bed, the calm of the evening was pierced by his wife's shouting near the computer. Knowing that she was online, playing at InterCasino, William quickly sprung from his bed in anticipation of a big payout. But William had no idea that his wife had just brought home the bacon - all $281.865 of it! It's always great to see a long time, loyal InterCasino player win a big jackpot! Congratulations to 'William H' and his family!
October 15, 2004. Slot Machines, Video Poker and Progressive Slots Tournaments and Lucky Draws at Fortune Lounge.
$2,000 Slots Lucky Draw at Fortune Room
. Climb to new heights and experience how good your gaming can get with our awesome new Viper Software. $2,500 Progressive Tournament at Vegas Palms online casino. Hit a home run in this week's Progressive Tournament and pocket your share of our $2,500 in prizes.
$2,500 Video Poker Challenge at 7 Sultans online casino.
Video Poker is the way to go this week. With two ways to win and $2,500 up for grabs you'd be mad to be anywhere else!
Read Full Tournaments Terms
.
October 14, 2004. Fortune Lounge Customer Service, Players Comments and Feedback.
Most of online casino players will be familiar with fantastic Support Team at Fortune Lounge casinos family. They have received a whole lot of fabulous feedback and encourage you to carry on sending it through. Here are some of the players comments:
"I wanted to let you know that since I have been using the Fortune Lounge and associated casino/poker rooms I have had great customer service.."
Read more players comments
October 11, 2004. Tunzamunni Nickel Progressive Slot Machine Review.
Deep in the jungle lurks treasure beyond your wildest dreams.. Make tons of money in Tunzamunni - our brand new 3 Reel Nickel Progressive Slot Game.
Tunzamunni
is a 3 reel, 1 payline and 5 coin game and the first Nickel Progressive Slot Game from Microgaming. The progressive jackpot is re-set at 10,000 credits after each jackpot win..
read full article
October 8, 2004. Money Comes In At The Nick Of Time For Suzanne H. Who Hit $43,575.04 Jackpot On Cash Splash.
Suzanne H. won $43,575.04 jackpot on Cash Splash progressive slot on October 8, 2004 at Roxy Palace online casino. This 3 reel single pay-line slot was the first Internet progressive game developed by Microgaming. Cash Splash is a very popular game where for a..
October 7, 2004. Rick F won the Ford Mustang V6 Convertible in Vegas Road Trip Promotion.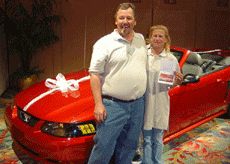 The
Fortune Lounge
Vegas Road Trip promotion was a huge success! Since the start of the promotion, we gave away $200,000 in prizes as well as the Ford Mustang Grand Prize. Congratulations to Rick F for winning the Ford Mustang V6 Convertible..
Read Full Story
October 7, 2004. CasinoWebcam announces the launch of its second-generation live gaming platform and new player promotions.
San Jose, Costa Rica - Casino WebCam, the leader in live online gaming is pleased to announce the official launch of its second-generation live gaming platform. With a mission to provide online casino players with the most exciting entertainment experience..
October 6, 2004. English Harbour UK have introduced its newest software release.
Fast becoming a staple ingredient for any Brit subscribing to a strict diet of excitement, chance and heart pounding casino entertainment,
English Harbour.co.uk
online casino has just served up its most delicious offering yet with the introduction of its newest software release. Having already captured the hearts and minds of the UK market earlier this year with its over the top pampering of UK-based players, the casino that enables customers to play and be paid in Pounds or Euros has added three new games - 1 Penny Slots, Mahjong Madness and 100-Hand Video Poker.
October 5, 2004. Casino Webcam's New Flash Software.
Casino Webcam recently launched its New Flash Software in an effort to give players a richly entertaining venue with a realistic feel. NEW flash software brings the introduction of several new features, including a smoother video feed, crisper sound, and sharper animated graphics. CWC players have responded very positively and have been excited about increased interactivity with the Live Dealers and an overall more realistic experience.
October 4, 2004. New multi-hand video pokers - Jacks or Better & Double Joker.
"We've taken the classic video poker and increased your chances of winning. How? With the inclusion of two Jokers per deck this calculates to more possible combinations, more video poker fun, and more earning potential. Why? We're that crazy and we want video..
October 3, 2004. Rookie FreeRoll tournament at Gaming Club Poker.
Gaming Club and River Belle Poker Rooms are proud to present exclusive Rookie FreeRoll for all new players. You can play every second Thurdays 18:00 EST, prize pool is $5,000. Limited time offer: register now, deposit $20 and collect up to $200 free as you play when..
October 2, 2004. SunPoker.com Announces Caribbean Poker Classic land based tournament in St. Maarten in December.
The line between virtual poker and the land based variety just became a bit fuzzier SunPoker.com is now bridging the gap from 'face to computer', to 'face to face' poker, with the announcement of the first annual 'Caribbean Poker Classic' No Limit Texas Hold 'Em tournament. Winning a qualifying satellite online at SunPoker means more than just the $5100 buy-in for the championship event the package includes your round trip airfare, six night's hotel accommodations..
read more
.
News & Articles Index
Previous Monthly Casino News:
Sep '04
Aug '04
Jul '04
Jun '04
May '04
Apr '04
Mar '04