Lorraine G Hits Fourth Jackpot Of The Month At UK Most Popular Bingo And Jackpot Site Jackpotjoy.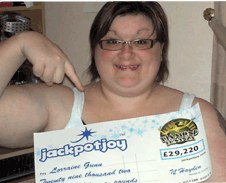 The fourth Jackpotjoy's big win in a month left Lorraine G grinning like a Cheshire Cat!
Most recently she won £13,490 in Price is Right Bingo - new instant online bingo game at Jackpotjoy. "I was playing in a couple of rooms at the same time, I remember the Deal or No Deal chat party with the Banker was on, so I switched into Price is Right and realised I only need one number for the Jackpot!
"I started chanting it - 36, 36, 36, 36 ... and then it came up! I was screaming!" Told us the winner.
Recently Lorraine's also won 29,220 UK Pounds in Diamond Bonanza, £6,690 in Bingo Lounge and an amazing £47,481 in Full House Bingo! Looks like every game she plays - she wins!
So will she be stepping aside and letting everyone else have a turn? Not a chance!
"I keep saying I LOVE Jackpotjoy! I think that's where my luck comes from! But I really do love it, the community, the hosts, it's somewhere I can relax and enjoy myself. These big wins are just a bonus! My time on JPJ has been amazing, you won't ever get rid of me now!" Added lucky Lorraine.
Congratulations to another happy winner! Jackpotjoy's instant Flash games are very popular and award £ millions every month to winners. Based on a popular UK TV show 'Deal or No Deal' slot machine offers a bonus round with a GBP250K prize and over GBP1 million progressive jackpots.
About Jackpotjoy
Jackpotjoy
is a popular UK gaming site offering a dozens of online bingo, slots, and other instant games with massive progressive jackpots. No download required to play the games on the Jackpotjoy website. New players can register an account right now and get 100% welcome bonus up to £100 free on their first deposit to start playing and winning.
Related Articles:
1. Popular UK Casino 32 Red Launches New Online Bingo Website

(26/03/2008)



2. Summer Madness As Interbingo's Jackpot Soars To Over $15,000

(22/07/2006)



3. Casino Partners Announced The Latest Addition To Its Group Of..

(13/07/2006)



4. Alison B Is Next Jackpotjoy's Winner With GBP16,754 Jackpot On..

(17/06/2005)



5. April Promotions And New Game At JackpotJoy Online Casino

(10/04/2007)



6. Unique DEAL OR NO DEAL Progressive Game At JackpotJoy

(04/11/2006)



All Online Casino News & Gambling Articles