Tiffany $5,000 Giveaway At InterCasino In January - Play New Bejeweled Slot.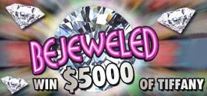 Play InterCasino's
Bejeweled 10 Line Slot
in January and you could be walking away with your share of
$5,000 worth of Tiffany Jewelry
. Five lucky people will win $1,000 worth of gifts of their choice from Tiffanys!
InterCasino knows how the sparkle of a jewel gets the heart racing. This January, the online casino is going to keep winter warm with its dazzling promotion which is sure to entice each and every person. All you are required to do is wager on InterCasino's 10-Line Slot game,
Bejeweled
, in the month of January and you'll be entered into the draw.
The promotion will run from January 1st to January 31st, 2006. For every $100 you wager, the more entries you receive. Winners will be drawn the 1st week of February 2006 and notified by email. Winners will have 7 days to confirm their email address and to claim their prize.
$5,000 Rags to Riches Competition
Play InterCasino's big paying Slots - Rags-to-Riches - throughout January and win $100! The 50 players who wager the most on Rags to Riches in January will each receive $100 cash prize. kimberly B. was a lucky winner when she walked away with the Rags to Riches jackpot of $118,526 on the 18th December, 2005. You could be next winner..
InterCasino has been voted
Top Online Casino
for the Fifth year running (2001-2005) by readers of
Gambling Online Magazine
. Join the most popular and trusted Internet casino now and get 100% match bonuses every month you play up to $1,000 a year!
Source: InterCasino
Related Articles:
1. Game Spotlight - Ladies Nite $4,000 Giveaway in January

(19/01/2005)



2. Winter Wonderland At InterCasino In December - '12 Days Of..

(28/12/2005)



3. InterCasino Claims Top Honors In The 2005 Gambling Online..

(26/12/2005)



4. The Safest Place To Play Online - InterCasino - Pays Out A..

(18/12/2005)



5. NETeller Is The Preferred Payment Option At InterCasino

(20/11/2005)



All Online Casino News & Gambling Articles