January 2006 Online Casino News:
January 31, 2006. High Speed Power Poker, Multi-hand Blackjack and Carnivale Fun in Latest Microgaming Releases.
Microgaming is starting 2006 with a players' choice of brand new and different online games featuring a major 5 reel video slot, the latest in the 100 Power Play Poker series, a new Multi-hand Blackjack offering and a simple but silky 3 reel slot. Flagship of the new..
January 28, 2006. Ukash And FPS ePassporte - Two New Payment Methods At Club Dice Casino.
Depositing and Withdrawing your winnings is now easier than ever at Club Dice Casino with two new Featured Payment Methods - Ukash and FPS ePassporte. FPS ePassporte is a virtual Visa card and is loadable using a regular Visa or MasterCard. After loading the card..
January 28, 2006. 'Casino Coins Aims High, Hits Even Higher' - An Affiliate's Story.
Casino Coins has a long and successful history with its Affiliates. Partners tells why Casino Coins has been the leading affiliate program since the birth of the online gaming industry. Webmaster EJ Keer told us about the positive effect Casino Coins had on his..
January 25, 2006. Trident Lounge Casinos To Offer 4 New Microgaming Releases On January 30.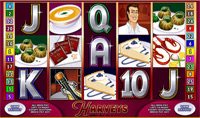 On January 30th, 2006 players of the
King Neptunes
and Trident Lounge online casinos will be offered four new Microgaming Viper games. There are 2 slots, multi-hand blackjack and popular 100 play series' video poker:
1)
Harvey's
- 5-Reel, 25-Payline Video Slot
2)
Multi-Hand Bonus Blackjack
3)
Deuces Wild 100 Play Power Poker
4)
Mardi Gras
- 3-Reel, Single Payline Slot
January 25, 2006. First Millionaire Of 2006: Heidi B. Wins $1,216,556.76 King Cashalot Jackpot At Lucky Nugget Casino.
Heidi B. won $1,216,556.76 while playing King Cashalot progressive slot on January 14, 2006 at Lucky Nugget online casino. "I had only been playing for about ten minutes when I won [this huge jackpot]", said the lucky winner. King Cashalot is a relatively new but very..
January 21, 2006. 8 New RealTime Gaming Games Are Available At King Solomon's And Grand Aces Casinos.
Eight brand new games to be live on the King Solomon's, Grand Aces and Geisha Lounge online casinos by Monday, January 23. The new games include six 5-reel, 20-payline, bonus feature video slots: Mister Money, Rain Dance, Red Sands, Sunken Treasure, Tigers Treasure and..
January 20, 2006. Spin To Win Reel Of Fortune At Trident Casinos In January.
From Monday to Thursday this month, 10 lucky players will be randomly drawn each day to take a spin on Reel of Fortune at all Trident Casinos. That's a total of 180 winners in January. Players can win one of 8 fabulous prizes: 100% Match Bonus up to $200,$50 Free..
January 19, 2006. The Veteran of the NFL, ISI and SFX/Clear Channel Peter Hughes Takes Helm to Oversee Management Responsibilities At WPT.
WPT Enterprises, Inc. has reached into the NFL's and Clear Channel's playbook to secure a leading sports executive as its new COO. Peter Hughes, most recently Executive Vice President for SFX Sports Group, a division of Clear Channel Entertainment, will join the..
January 18, 2006. Heidi B. Wins $1,216,556.76 King Cashalot Progressive Jackpot And Becomes First Millionaire Of 2006 At Belle Rock Gaming.
Heidi B., a teacher from Ohio, has become a first millionaire of 2006 at Belle Rock Entertainment winning $1,216,556.76 progressive jackpot on King Cashalot slot at Lucky Nugget online casino. King Cashalot is a very popular 5 reel, 9 payline, multiple coin slot..
January 17, 2006. Win Spin2Million$ Jackpot At Monaco Gold Online Casino, $1,000 Bonus And Ticket To Monaco On The French Riviera.
This year begins with the Spin2Million$ Jackpot, the new game of Monaco Gold online casino. This new Jackpot is what all the players are talking about. After the last progressive jackpot that was won by the famous Marty, the players are rushing in to try their luck..
January 17, 2006. WPT Enterprises Inc. Deal with U.K.'s Granada Ventures As European Licensing Agent.
(London) - WPT Enterprises Inc. has named Granada Ventures, ITV's merchandise, licensing and publishing division to be its European licensing agent for WORLD POKER TOUR(R) merchandise. The company is part of ITV, the powerful family of networks broadcasting in the..
January 15, 2006. 'Mustang GT Convertible' Promotions At Club Dice Casino - Get Up To $1,000 In Bonuses And Win The Mustang.
The winter season at Club Dice online casino is just getting hotter and hotter. How hot, you ask? Burning-Red-Mustang-GT-Convertible HOT! All Club Dice Casino players have a chance to win the amazing Mustang GT Convertible. All they have to do is make a deposit..
January 13, 2006. RiverBelle.info And Fox Sports Network Present Monte Carlo Millions 2005, The World's Most Exclusive Poker Tournament.
River Belle kicks off the launch of its new free play online poker destination RiverBelle.info, by sponsoring the telecast of the world's most exclusive poker tournament, Monte Carlo Millions 2005 on Fox Sports Network (FSN). The first broadcast is scheduled for 9:30..
January 9, 2006. River Belle Extends Premium Entertainment Brand With River Belle Online Poker.
River Belle, one of the most recognized and trusted online entertainment brands in the world, today launched River Belle Online Poker. Leveraging River Belle Online Casino, the new and innovative online poker room delivers unique features to bring the excitement of..
January 7, 2006. The Sands Of The Caribbean Players Testimonials - Online Gamblers Share Gaming Experience.
He we selected several letters and testimonials of the The Sands Of The Caribbean online casino players. The feedback is very useful if you want to learn more about the casino. Read what the real online players tells about their gambling experience at this online..
January 6, 2006. CasinoPays (CPays) Voted 'Best Affiliate Program' 2005 By Gambling Online Magazine Readers.
The great news is that the Gambling Online Magazine announced CasinoPays (Cpays) to be the "Best Affiliate Program" by the readers poll 2005. "We were very excited to receive it and would like to thank our affiliates for making this happen, because we know that we..
January 3, 2006. Tiffany $5,000 Giveaway At InterCasino In January - Play New Bejeweled Slot.
Play InterCasino's Bejeweled 10 Line Slot in January and you could be walking away with your share of $5,000 worth of Tiffany Jewelry. Five lucky people will win $1,000 worth of gifts of their choice from Tiffanys! InterCasino knows how the sparkle of a jewel gets the..
News & Articles Index
Previous Monthly Casino News:
Dec '05
Nov '05
Oct '05
Sep '05
Aug '05
Jul '05
Jun '05
Recommended: Bonuses | Casino Rankings | Casino Payouts