6 Great New Games At Trident Casinos In December - Play Jingle Bells, Santa Paws And More.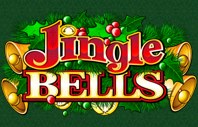 It's our pleasure to inform you that both King Neptune's, Trident Lounge and several other
Microgaming online casinos
will be launching 6 new Viper software games to be released on December 13, 2006:
Santa Paws 5 reel, 20 payline Video Slot, Lady of the Orient 5 reel, 20 pay line Video Slot, Inca Gold 5 reel, 20 payline Video Slot, Crazy 80's 5 reel, 9 pay-line Video Slot, Jingle Bells 3 reel, 5 payline Classic Slot and Vegas Single Deck Blackjack Game
SANTA PAWS
- Just in time for the holidays, a monster of a slot with presents aplenty!
Whether you've been naughty or nice; sugar or spice the year-end holidays are on the horizon. Extending Microgaming's selection of big, seasonally-themed fun games, Santa Paws is a 5 reel, 20 pay line game in the highly entertaining Australian style, with
free spins, major mystery multipliers, Scatter and two Wild opportunities and a Gamble feature
where the intrepid can double or quadruple their wins if Lady Luck smiles on their selection of suit or color.
Santa Paws offers jackpots of 20,000.00 in the base game, and the chance to send that Christmas present rocketing up to 140,000.00 credits with famous Free Spins, and more free spins within those spins, feature.
3, 4 or 5 of the Scatter symbol across the reels triggers a 12 free spin bonanza where a mystery multiplier between 2x and 7x adds spice to an already generous reward... and there is the possibility of picking up a further 12 freebies within the feature. Santa Paws' generosity doesn't end there; his bag of gifts also offers a single wild during normal play, and 2 wilds during Free Spins, opening up the possibility for even greater winnings. This game is just filled with special goodies, designed to deliver that feel-good holiday spirit.
JINGLE BELLS
- Christmas cheer is here!
What better gift for the festive season than a Christmas stocking full of greenbacks... Jingle Bells, the latest Reel slot could make that possible with a high roller jackpot of 30,000.00 on the maximum bet of 25.00 credits.
This straight-shooting 3 reel, 5 pay line Santa-sackful of entertainment and reward evokes the spirit of the season the moment you open it up, with the glossy green of holly contrasting with the golden bells and red berries from your earliest Christmas memories. The well crafted artwork sets an immediate Happy Holidays feeling clear across the easily to hand and intuitively laid out game controls.
Jingle Bells is one of those no-frills slot machines much favored by fast-playing, hard action gaming fans. The holly-clad bells are the
Wild symbols
that substitute for all icons and can help you complete a winning combination to go after that 30,000.00 jackpot and a truly Merry Christmas.
Play at a level to suit your budget from a betting range that stretches from 0.25 cents to $5.00 (or €/£) and enjoy the simplicity and fast, smooth action on the advanced software engine that powers this entertaining game. You could try having fun riding in a one horse open sleigh... but would it give you a jackpot like this?!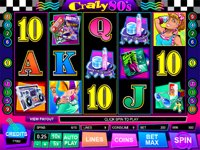 CRAZY 80s
- it's hip, it's cool, it's rockin' and rollin'
Take a trip back in time, when socks were neon and hair was big; a time when Depeche Mode, Duran Duran and INXS held sway. It's the 'Eighties and the latest video slot - CRAZY 80's - celebrates a fun era with a cool new game.
Crazy 80s is a 5-reel, 9 payline video slot that gets right down to business with generous Wild and Scatter symbols to increase your chances of winning and multiply that bottom line. But there's nothing historical about the outstanding Viper software platform on which this game operates - it's state-of-the-art, high-tech slots wizardry showcased by vibrantly colorful artwork to set that 'Eighties scene.
Whether you want to bet at 0.25 or 5.00, there's an option to suit you, and on a max bet of 45.00 across the lines you could be lucky enough to reap a rich 25,000.00 jackpot or one of the many reward levels leading to it. Trip back to those energizing days of seriously cool, big beat music and way-out fashion and give Crazy Eighties a whirl.
LADY OF THE ORIENT
- This lady is generous!
The luxurious Asian theme of the latest major video slot release, LADY OF THE ORIENT, sparks images of those exotic far away places with strange sounding names in a happy celebration of Eastern culture and beauty. This truly fascinating new 5 reel 20 pay-line game delivers several opportunities for reward that most players find thrilling and attractive, all combined in an engaging mix for maximum entertainment.
There's the stunningly beautiful Lady herself, for example. When she appears on reels 2, 3 or 4 she not only provides substitution opportunities to make up winning combinations, but she can trigger 3 bonus rounds where the player faces an exotic lacquered cabinet in which tranquil gold, silver, ruby and jade idols rest. The player has six chances to match 3 of the idols by color to win a generous prize multiplied by the triggering bet.
The Lady of the Orient can appear again, offering the same great opportunities during the Free Spins feature which kicks in when three or more of the imposing oriental palace in which the lady resides appear across the reels as the Scatter. This immediately rewards the player with 15 free spins, and within those spins further spins can materialize, increasing the chances of tripling the players' winnings.
The visual impact of the screens in Lady of the Orient can't help but catch the eye, with colorful Asian idols, the lovely Lady, bejeweled elephants and ubiquitous sailing junks. Hold thumbs for the latter two symbols, which carry great reward possibilities.
Players can explore the winning possibilities of this treasure trove of the Orient for as little as a cent or as much as 200.00 on a maximum bet. In the way of returns, it is possible to generate a big win of
50,000.00
in the base game, up to
150,000.00
on the Free Spins and
10,000.00
in bonuses - that sort of payday challenges even those achievable on most progressive jackpots!
Lady of the Orient is a truly remarkable Asian experience wrapped around some of the best video slot technology on the Internet today!
INCA GOLD
- Climb the Inca pyramid and claim the treasure!
This brand new 5 reel, 20 pay line video slot is appropriately branded INCA GOLD, where players can use luck, skilled choice and a selection of Wild, Scatter, Free Spin and Bonus opportunities to capture the wealth of the ancients. For as little as one cent, or as much as 100.00 credits on the maximum bet, a player can enjoy hours of entertainment laced with the exciting potential of wins in the base game up to
50,000.00
, on the Free Spins double that and on the bonus possibilities up to
18,000.00
. Truly a treasure of Inca gold delivered on the top slot gaming technology on the Internet.
The golden Inca amulet is one of the keys to success in this outstanding new game, because 3 of these mysterious symbols will reward the player with
5 Free Spins
where all free spin prizes are doubled. More importantly it brings forward the first of 4 levels that enable the player to climb an Incan stone pyramid to the riches hidden at the top. Select the right stone blocks and the climb begins, with the prizes becoming richer or the additional free spins more generous as each level is reached. Up to 35 spins, and the rich returns associated with these can be won.
When the player reaches the summit, there's the final mystery blocking the way to wealth - open the door, and if the centuries-old treasure is available it's worth an astounding 150x the triggering bet! This game also offers unsuccessful players a consolation prize of twice the triggering bet... and they get to keep any prizes accumulated on the way up.
There's another icon to look for in this enthralling game, and that's the rather fierce looking high priest who substitutes for all symbols except that magic golden amulet. The priest's flexibility in the substitution role enables players to build winning combinations where the prize is doubled.
With customary attention to detail and ambience, the brilliantly colored graphics in this game add to the mystique and sheer suspense of Inca Gold. Exotic birds in vibrant colors, beautiful Incan maidens and centuries old ruined stone temples nestling in the jungle all take the player into a fantasy land of the past, whilst the bonus pyramid is highlighted by dramatic skies and lightning strikes.
VEGAS SINGLE DECK BLACKJACK
- A new single deck blackjack that captures the magic of Vegas action!
The brand new Vegas Single Deck Blackjack game in the high action Las Vegas tradition has been released. Microgaming's development team has used a robust and well proved blackjack gaming engine to ensure the smoothest and fastest action yet in the new game, which is presented with elegant graphics so precisely executed that you can almost feel the texture of the table. The game control layout falls easily to hand, and the game rules are upfront for easy reference at the table.
Vegas Single Deck Blackjack, as the name implies, plays with only one deck of cards. It is an American Hole Card game (the Dealer peeks on 10 value cards and aces) which does not offer the option for Surrender and only allows a player to split once per hand. The Dealer is forced to hit on Soft 17. Blackjack pays 3:2, Insurance pays 2:1.
This is an intriguing and entertaining game where the dealer challenges the luck of the cards and the skill of the player to provide both thrills and entertainment. The game caters for a wide range of playing styles and bankrolls, and you can gamble from denominations as small as 1.00 a hand right up to 200.00 credits. The chip pile resizes to make up the current bet with the least possible number of chips.
All new games are available for play from December 13th at King Neptune's and Trident Lounge online casinos as well as several other
Microgaming powered casinos
.
Related Articles:
1. Three New Video Slots, Power Poker And Five Blackjack Versions..

(02/12/2006)



2. CasinoRewards Introduces The First 4 Tier Progressive On The..

(22/11/2006)



3. InterCasino Has Added 17 Brand New Awesome Games In Its Version..

(17/11/2006)



4. New Poker Room, Poker Arena Joins The Microgaming Poker Network

(05/11/2006)



5. 3 Card Poker, 3 Video Slots, Multi-Hand Blackjack And All Aces..

(02/11/2006)



All Online Casino News & Gambling Articles