Popular Online Poker Site PartyPoker Offers New Website And Lobby With New Features.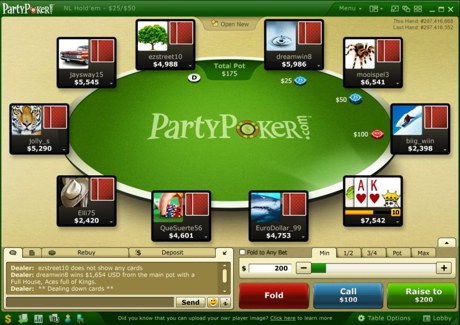 Party Poker is delighted to announce that they have launched an all new fantastic version of its popular online poker site. Make no mistake, this is no botox - general anaesthetic was needed as despite all the improvements the room have made over the years they decided on major surgery - it is a complete facelift! Thousands of work hours have gone into the new Party Poker website and it's well worth checking out. On Monday, details of great new promotions to mark this online poker landmark will be released. Already, Party Poker is offering a new bonus of 100% up to $500 (follow links on this page to be eligible for the bonus).
The next generation of Party Poker enables online players to find tables quicker, provides them with more ergonomic and personalised tables, allows access to more poker action through refinements to multi-tabling and offers easier accessibility to account information. For players who want to keep the old table design there is an option to do this.
John O'Malia, Managing Director of PartyGaming Plc, said: "The first phase of the next generation of PartyPoker.com has been 10 months in the making and is a great example of operational excellence by teams of people dedicated to returning us to pole position in the market. Players who have tested the new features are delighted with the changes, and preparations for the next phase of the roll out are well advanced."
Andreas Hartmann, Director of Product for PartyGaming Plc, said: "The whole focus of the redesign was to help the online player succeed. We're delighted with the redesigned table and big improvements have been made in how easy and quick it is to get into a game. There are new lobby views and game play ergonomics have been taken on board as the main driver for the improvements. The new PartyPoker.com will also have an integrated experience with significantly less pop-ups. We've also taken a new approach to multi-tabling and are pleased with what we have achieved in phase one of the new PartyPoker.com."
The Party Poker redesign was implemented with 4 key features:

1) Find your table quicker.
Resizable lobby
New "browse" lobby view and filters
Table preview feature
Personalized and more powerful Favourites
QuickSeat table search
Quicker access to waiting list and private tables
2) More ergonomic and personal table to support your play.
New table design with improved action area
Customizable player photos
Better chat and notes
Keyboard shortcuts, alerts and more
3) More action and gain through multi-tabling.
Open similar tables and Favourites directly from the table
Tiling, cascading, manage and sort tables
Alerts: time out, good hand, big pot and more
4) Better access to all your account information
My Account area with loyalty info and real time updates
Account and cashier embedded in client
Pick your own time zone in lobby
Discussion of the new product and its features can be found at Party Poker blog. To celebrate the introduction of the new product, Party Poker is pleased to announce that there will be an exclusive freeroll for real money players who are members of the PartyPoker's mailing list. If you don't already have an account, it's a simple to sign up and take part in the freeroll. You can also collect a great new 100% up to $500 sign-up bonus.
The tournament will take place on Saturday 18th October at 14:45 ET (19:45 BST). To register all you have to do is e-mail your name and your Party Poker real money account name (not your screen name) to warrenl@partygaming.com.
The freeroll prize pool is $10,000 and the payout structures will be standard based on the regular multi table tournaments' payouts. Early registration is encouraged, you will receive an e-mail to remind you to take part in the freeroll and that you are registered. This tournament is not open to players from the United States of America.
Related Articles:
1. New Look For Super Slots And New $1000 Bonus At Millionaire..

(07/07/2008)



2. New Casino Del Rio Face - An Eco-Friendly Online Casino

(05/10/2007)



3. River Belle Offers Online Casino, Poker And Bingo To UK Player

(24/10/2006)



4. Freeroll Tournament This Weekend At Belle Rock Entertainment..

(19/09/2008)



5. PartyGaming Brands Achieves eCOGRA Accreditation And Receives..

(02/09/2008)



6. All Slots Online Casino Invites Players For Another $100K Free..

(03/07/2008)



All Online Casino News & Gambling Articles