Try Latest Gamble Feature Card Game FourCast At Slotland Online Casino - Get $10 Free To Start.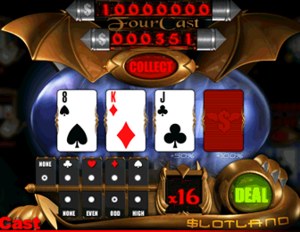 Slotland online casino has just presented their latest card game, FourCastm with exciting payouts. The game represents a completely new concept that is unique in its style of play as well as its features like the ones you may see at gamble feature video slots.
The greatest feature of this game is that correctly selecting the value and suit of four cards in a row, your bet multiplies exponentially. No download required, just open an account (or use an existing one) and start to play immediately.
Your initial bet is multiplied by x2 if you correctly predict value of the card - HIGH card (10,J,Q,K,A), EVEN card (2,4,6,8,10) or ODD card (A,3,5,7,9). Triple you bet by correctly predicting suit of a card (diamonds, clubs, hearts and spades). If you correctly predict the suit of a card as well as the value you'll get paid x8 your bet.
How to play
FourCast is a card prediction game with exciting gamble feature. You will be dealt 4 cards face down at the beginning of each round. Select the suit and/or value you think will appear on the next card to be turned. Press the "Deal" button and the first card is revealed. If your selection was correct, you can either collect your winnings or try the next game round and increase your winnings. Successfully predicting in the third or fourth round increases your winnings by 50% or 100%, respectively! However, if your selection is incorrect, your initial bet and all accumulated winnings are lost. If you turn over a Joker, the game ends but your accumulated winnings are automatically paid out.
FourCast has the biggest non progressive Jackpot wins at Slotland casino - when placing a $10 bet (which you can get from Slotland for free) - and predicting correctly both the suit and value of all four cards in a row, you will win an incredible $122,880.00! And that does not decrease your chances of winning the progressive jackpot (that is now about $61K+) that is available on every game at Slotland online and mobile casino. Open a real account at Slotland casino, collect your welcome bonus(es) and play anywhere - you may play instant games on your PC or mobile device - cell phone, Poket PC or PDA. You'll receive $20 free to try the latest TeasureBox mobile version on your handset.
If you login to your Slotland casino account before Sunday, September 30 2007, you will be automatically credited with a $10 free bonus. Please note that the wagering requirements for this bonus is 8 times (wager just $80). Now you can play 14 unique slots, video poker, backjack and other card games at Slotland including: Golden 8, Heavy Metal, Magic slots, Silver Kiss, Jacks Or Better, Wild Heart, Space Jack, Treasure Box, Booster, Striking 7s, Halloween Magic, Santa Sleigh, Lucky Stars and FourCast.
What the players say
"I just wanted to say Thank you. I have accounts at 7 or 8 online casinos, but I haven't played at any other site in weeks as Slotland is the most responsive, courtious, friendly & professional casino on the internet I have visited."
TRIP42
Source: Slotland Casino
Related Articles:
1. New Sneak-a-Peek Slots Doctor Doctor And Hunky Heroes At Casino..

(07/09/2007)



2. Three New 5 Reel Video Slots Games From Microgaming In..

(31/08/2007)



3. Non Download InterCasino And New Video Slots And Blackjack..

(22/07/2007)



4. New Slots And Power Poker In Recent Additions To The River..

(09/07/2007)



5. New Video Slots Jellyfish Jaunt And Game On Were Added To The..

(02/06/2007)



6. Jackpot Factory Is Keeping It Reel With 2 New Slots, Power..

(07/05/2007)



All Online Casino News & Gambling Articles