Introducing Slotris - New Slotland's Casino Slot Game.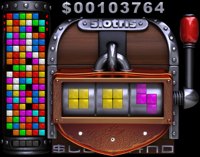 Every once in a while, you will come across something in your life that seems so familiar and yet so new. Slotland casino team strives to create such an experience with each unique game developed and their latest entry, Slotris, easily fits the bill for something old and something new, and clearly something exciting and rewarding! Slotland proudly presents Slotris, a slot machine that also includes a Tetris-like bonus feature game.
As you may have guessed from the name of this new slot, there may be a touch of the
Tetris
game lurking about the machine, and you would be correct in your guess! However, although developers have used the fun part of the game (and made it profitable!), and removed any time and strategy pressures. Even if you have never played Tetris before, you will find Slotris easy and friendly and much more exciting, since you can win the progressive jackpot on any given spin at random!
Basically, every spin produces different shaped blocks, which will end up on the side game board for yet another chance of winning money! You will quickly notice that the same colored blocks will always share the exact same shape, making it much easier to win and to play the side game for extra winnings and even the progressive jackpot! In the side game, you can mix up the order of the colored blocks you just spun. On the next spin, your previous blocks will now fall to the bottom of the side game screen.
Slotris is a 3 wheel, single payline slot machine game with two opportunities for winning. A Player can win by lining up 3 symbols of the same color and shape on the main payline and by making solid horizontal lines in the Slotris field.
The side game simply requires player to line up the blocks and attempt to make a solid line. Like Tetris, if you cannot create a solid line in a given round, the blocks stack up on top of each other. Unlike Tetris, creating solid lines means you make money! The more solid lines you create before your stack reaches the top of the game screen, the more cash you receive. And if you can make 10 solid lines before your stack is reset, you have just won large jackpot!
Do you worry that you might miss a solid line? Don't need to worry, because as you switch around the positions of the blocks you just spun, a payoff indicator at the bottom of your side game screen will let you know if you can clear another line and win even more money!
As you can see, Slotris is fun to play, easy to learn and can potentially make you a rich person, with the right spins! Can you be the first Slotris
jackpot winner
? Jackpot value is currently $103,764.00 and grows. There is only one way to find out and that is to start spinning Slotris today.
Slotland online casino
offers unique, Windows/Mac/WebTV/PDA/mobile compatible online slot machine games, fast payouts, great odds (avg. 98% for slots), and 100% match welcome bonus of up to $100 free. All players including those from USA are welcome.
Related Articles:
1. Europa Casino Has Just Launched Another Fantastic Online Slot..

(05/06/2008)



2. 5 New Microgaming Games And Awesome Action With Cashapillar..

(28/05/2008)



3. New Sure Win Video Slots And Multi-Hand Hold'Em In May's..

(13/05/2008)



4. Brand-New Street Fighter And Movie Mayhem Slots Introduced By..

(24/04/2008)



5. Double 0' Cash, Break da Bank Again and Celtic Crown Video..

(02/04/2008)



6. New Microgaming's Big Break, Mardi Gras Fever, K9 Capers And..

(07/02/2008)



All Online Casino News & Gambling Articles