Try 888Poker's Revolutionary PokerCam And Teams Poker Tables In The New Poker Software Release.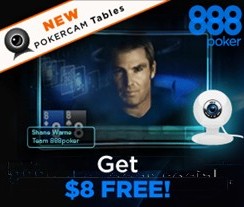 888 Poker room continues to revolutionize online poker this month with its new, upgraded software featuring:
- NEW PokerCam tables where players can play 888poker face-to-face using their webcams.
- NEW Teams Poker ™ - join their favorite teams and battle it out on the 888 Poker tables.
In addition, a major TV ad campaign starring Shane Warne is already live and boosting the online poker buzz. This is another chance for online players to take advantage of 888poker's continuing growth and play with a lot of new members on the tables...
This month 888Poker is offering guaranteed tournaments including $1,000, $4,000 and $10,000 "Play More" Poker Freerolls and more chances than ever to win BIG cash with a small buy-in of $0.08.
888 Poker is offering $8 FREE to new players from the following countries: UK, Ireland, Germany, Australia, Austria, Canada, Netherlands, Spain, Lebanon, New Zealand, Switzerland, Belgium, Greece, South Africa, Denmark, Sweden, Norway and Finland.
Beginners Lobby
The new version of 888 Poker has a unique lobby just for beginners. As we all know, if you are new to online poker, the first time opening a poker client can be a bit overwhelming with an array of choices and settings. Having a lobby that guides beginners to the right tables and preferences for them takes the guessing out of the game. The 888 Poker's lobby displays only 6 tables, making it easier for the beginner player to make a selection. Of course, there is always the option to view more tables by clicking on the "More Tables" button.
New Community & Online Store
888poker is one of the only clients out there with a community site that has just about everything you need to live and breathe the incredible game of poker. Meet and chat with players off the tables, talk strategy and get tips from 888poker's top winners in the forums. View and share pics and videos with the community and read professional poker blogs from the 888 celebrity ambassadors. The community site is actually run by 888 Poker so members can talk directly to the 888 Poker staff isn't just about the game, as we all know, it's a lifestyle and the 888 Poker community recognises this.
888poker 6.0. Reinventing Itself Again
The latest version of 888poker is not just their average software upgrade. The new version from 888 was revamped from scratch based on feedback from members and is definitely something to talk about. All of these client software upgrades lead to better performance and overall usability, making 888Poker even more enjoyable than it already is.
The latest version from 888poker is simply a step above the rest. The new revamped features really make poker playing even more easy and enjoyable than before. With the savvy look and incredible ability to customise, 888 Poker has really managed to re-invent itself this time.
100% Welcome Bonus up to $400
There's also one of the simplest Welcome Bonuses around too! To start enjoying the 100% Welcome Bonus up to $400, simply deposit, hit the tables and start earning Bonus Points at 888 Poker site. Every time you accumulate 100 BPs you'll receive a $10 portion of your bonus straight into your 888poker account. Visit
888 Poker
today, it's definitely worth a visit.
Related Articles:
1. New SunPoker Software Version 9.3 And Casino Side Games

(09/12/2009)



2. Peak Entertainment's Online Casinos And SunPoker Moves To..

(21/11/2008)



3. Brand New All Jackpots Multi Language Multi Player Viper..

(01/06/2007)



4. Belle Rock Entertainment Offers New Casino Software, Slot..

(30/05/2007)



5. English Harbour Online Casino Releases New Proprietary Casino..

(20/10/2005)



All Online Casino News & Gambling Articles