Winning Stories from Online Casinos. How Did They Win Big Jackpots?
See also over 1000 online winner stories by month - the largest archive of winners testimonials and reports on the Web.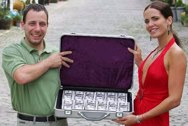 May 27, 2007.
Record-Breaking US$8 Million Online Jackpot Has Just Been Won At InterCasino On Millionaires Club Progressive Slot.
In May 2007, the world famous Millionaires Club progressive slot awarded
OBAESSO
, a 29 year old blacksmith, with the world's largest ever online jackpot, totalling more then $8 million! The long-awaited, huge
Millionaires Club
jackpot has been won on Tuesday. The jackpot had been setting new online casino world records every day by passing $4 million, then $5 million marks, and online players from around the world where flocking to the Cryptologic casinos in hope of hitting the giantic jackpot ... until it was finally hit by the Englishman. OBAESSO collected his prize in London from model Sophie Anderton. The lucky winner said: "This is amazing. I am in total shock. It will completely change my life. I still cannot believe it as I never win anything and this is the first time I have played. I keep expecting to wake up and find this is a dream. I don't know what I will do with the money but I am looking forward to treating my family to a really great summer holiday, it will be the first time many of them have flown. I enjoy being a blacksmith but I need never work again."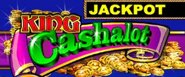 January 5, 2007. King Cashalot Video Slot Delivers New Year's Eve Jackpot Of Staggering $1,745,475.
You know the King Cashalot Jackpot we kept saying was going to go off at any moment when the jackpot value exceeded $1 million mark. Well on New Year's Eve King Cashalot was finally hit however only after it had reached an incredible $1,745,475.28 by a player of the
Captain Cooks online casino
(a proud member of
CasinoRewards group
). The winner shares her successful online gambling experience with us and tells her great story of this remarkable jackpot win:
"I was spinning on Crazy 80's Slot [new Microgaming slots game] and I won $499 and I was all excited. I ran it up to $700 and decided to cash-in $500 and use the remaining $200 on King Cashalot. I saw three kings, then four, then five, oh my god, no way, my heart was beating right out of my chest. I sat there looking at it for 10 minutes, walked off from my computer and went back again and again. I showed my husband and he made me call the casino service centre because he did not believe me. He almost fell down the stairs! It was like a miracle! A guardian angel is looking out for me!"
As I write this the King Cashalot progressive jackpot is creeping back up to $1 Million and newest
Mega Moolah
video slot jackpot is already over... Remember: You could be the next member of the millionaires club!

October 22, 2005. Biggest Online Jackpot Winner Marty O. leaves his job and opens restaurant after winning huge $1,966,183.01 jackpot on Gold Rally progressive slot at Carnival online casino.
Marty O. (from Florida, USA) won $1,966,183.01 playing popular Gold Rally 3 reel 8 pay-line $2 coin slot. "My dream has always been to go to sunny Florida and start my own restaurant, but I never had the money to do it. Now ... I can finally make my dream come true!" said the winner. Marty has also given advice to other players: "
Don't give up!
Look at me, I was never a winner, but I kept playing and now I'm a multi-millionaire! Luck is the most important factor for winning in online casinos, and luck is for everyone!"
Marty O.
has told in his interview that he like to play online casino slot machine games, especially the progressive slots because their jackpots are always sky-high. "My goal in life was always to provide my children with a better future. Now that I won the
Carnival Casino
Jackpot, I can actually make this happen... For sure, I'm the luckiest man on the planet." said the
largest online jackpot winner
.
February 24, 2004. - London, UK - InterCasino
The largest online progressive jackpot of $178,802.42 recorded in Indonesian history was won by InterCasino's player 'dicdinata', who won a 1,510,876,928 Indonesian Rupiahs ($178,802.42) MEGA-jackpot on progressive Multi-Player Caribbean Poker right from his home in Jakarta, Indonesia.
"We have always had strong players from Asia," says an excited InterCasino's manager Ryan Hartley, "I'm honored, but not surprised, that we have broken the record for paying the largest-ever jackpot in Indonesia. We have made a concerted effort to make Inter Casino available to people from all over the globe, and I am happy that our efforts are being reflected in our winners," continued Ryan.
InterCasino's popularity across Asia is booming as online players take advantage of their Chinese and Japanese language websites, which are not only translated into local language, but also regionalized to make players who use the local language InterCasino sites feel comfortable with familiar navigation as well as web page structures.
"Besides our English site, which allows play in Dollars and Euros, we have local language sites in Chinese, Japanese, French, German, Italian and Spanish. We also offer support in local language for players at each of those websites. We believe that if an online casino is going to be global, it needs to dedicate the resources to its international players," added Ryan Hartley.
Dicdinata's MEGA-jackpot win came only a week after becoming a real player at InterCasino. Nevertheless, his win of over one and a half billion Indonesian Rupiahs is among the largest Caribbean Poker progressive jackpots ever paid out online.
InterCasino has welcomed over 300,000 players since 1997. On average, the casino pays out over $1 million a week to its lucky online winners.

September, 30, 2003. Source: Jackpot Madness.
Brad Wins LotsaLoot Bringing Total to $861,737.68 SO FAR!!
"I have been SO lucky! To have won another big jackpot within a couple of weeks of THE BIG ONE was such an exhilarating feeling!!"
Brad S, Financial Consultant, won ANOTHER big jackpot of $46,392.69 on LotsaLoot on September 6th, 2002 at Golden Riviera. This is to add to: his enormous $739,794.33 jackpot on Major Millions on August 25th, 2002 at Vegas Villa, his $11,290.67 win on Fruit Fiesta on August 21 and his $48,350.30 jackpot on LotsaLoot on July 1st, both at Crazy Vegas AND his $15,909.69 jackpot on Cash Splash at Golden Riviera on March 9th, 2002.

Brad! TELL US YOUR SECRET! I am sure everyone is just dying to know how you keep on winning all those jackpots? You said last time you were going to 'conquer' Treasure Nile next. What made you go back to win LotsaLoot again?
I have been so fortunate! To have won another progressive within a couple weeks of 'THE BIG ONE' was such an exhilarating feeling! I know I said I was going to try to win Treasure Nile next, but the Lotsaloot jackpot in the $40's just jumped out at me and said 'Try to get me!' . . . and I did!

Ironically, my brother, who finally decided he should try to mimic some of the success of his little brother at Jackpot Madness, was apparently playing Lotsaloot at the time I won and saw the screen flash 'The Jackpot Has Been Won' and wondered if I might have been the winner.... I was!

You have so far won on Major Millions, Fruit Fiesta and Cash Splash as well as 2x on LotsaLoot. Will you try for all of the Jackpot Madness jackpots?
What next? I'll just keep trying. I've probably gotten a little spoiled - but you never know when that lucky combination will hit! I'm fond of all the Jackpot Madness games, but am particularly fond of Major Millions (for obvious reasons)

Any parting words of wisdom for your fellow players?
The secret to creating wealth is to start by not losing. . .



June, 30, 2003. $155,281 jackpot hit at The Sands of the Caribbean Online Casino
Once again, a customer by the username 'tapete14' won $155,281.00 in the "Rags to Riches" Progressive Jackpot at The Sands of the Caribbean. The VIP Manager spoke to 'tapete14' on the phone and he was ecstatic, "I really couldn't believe it. I looked at the numbers on the screen, and thought. NO WAY!...This can't be real. Then when you called on the phone to congratulate me, I knew I really did win. WOW!"


$1,626,184.56 Won in February 2003 on MAJOR MILLIONS progressive jackpot!!!
Golden Tiger Casino is proud to announce that they have the largest online progressive jackpot winner. Ronald H was the lucky Golden Tiger player to win $1,626,184.56 playing Major Millions, Microgaming's richest progressive slot game. Brent Smith from CasinoRewards was excited to announce this news. "It's not often we get a progressive jackpot this large" said Brent, " and for it to be won by one of Golden Tiger's members is tremendous".
As one of the leading online casinos, Golden Tiger has had tens of thousands of winners but none as big as this. "It's common that we ring our players when they make big wins" said Jaqui, one of the casino's support staff. "Players are always excited when they win, be it one hundred dollars or one hundred thousand, but I don't think anyone can be as excited as Ronald H is right now". Golden Tiger Casino has one of the largest ranges of games online including Microgaming's latest progressive jackpot games, classic table games and video poker. You're guaranteed that this isn't the last massive jackpot we'll be seeing at Golden Tiger.
UK Player Scoops $211,921.96 Jackpot
British player "
Crazydaiz
" sure had a crazy day this Saturday, March 8th. She scooped almost a quarter of a million dollars playing on InterCasino's most popular progressive jackpot slot machine,
Rags to Riches
!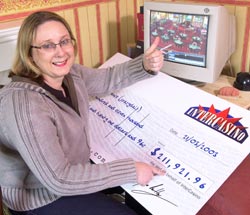 Not only has she made a small fortune but she has broken the online casino jackpot record to become InterCasino's biggest ever
UK
winner!
Michele S wins $872,884
"We were ready to retire when the first
Major Million
symbol hit the 3rd line, then the 2nd - we both watched in anticipation. Then - BOOM, the third one hit and the sirens started flashing. We had just won the Progressive Jackpot! We really doubted if big payouts ever even happened, but now we are living proof that they do - and the feeling is unbelievable! Thank you
Lucky Nugget
!"
June, 2003.
Great News from
InterCasino
:
1. First June Weekend was certainly a lucky dip for 'tsuedos' and 'jesper'. They scooped
$251,474.00
on
Rags-To- Riches
, 'tsuedos' won $146,973.00 and 'jesper' hit the jackpot at $104,501.00! InterCasino player 'Muttong' had a lucky day today when she won
$130,010.25
playing on popular
Spice Island Poker
video slot machine.
2.
May's Big Winners:
tsuedos: 146,973.00; rhocro: 134,947.00;
Jesper: 104,501.00; Suzilou: 68,202.00; gabi: 23,800.00.
3.
Two Mega Jackpot Winners In Four Days!
Two lucky InterCasino winners won a combined total of $203,149.81 in progressive jackpot payouts within the space of 4 days! "Suzilou" won $68,203.10 on the 1st May and "rhocro" won $134,946.71 jackpot on the 5th of May playing Shoot-O-Rama video slots. InterCasino has paid out a staggering $2 Million in jackpots alone this year! Remember: Next time you could be the winner too!
May 9, 2003. Casino Rewards April's Big Winners.
Maurice N of Virginia
won
$59,011.26
playing Treasure Nile at
Blackjack Ballroom
Alan C of California
won
$34,750.00
playing High Five and Zany Zebra Slots at
Blackjack Ballroom
Ann L of Tennessee
won
$25,005.00
playing Winning Wizard Slots at Virtual City
Johnny F of Denmark
won
$20,075.00
playing Deuces and Joker Power Poker at
Zodiac Casino
April 30, 2003. InterCasino: KELGIRL Wins Online Jackpot - TWICE!
Lucky online casino gambler, known by her casino nickname "KELGIRL", beat the odds earlier on April 29th, 2003, when she won her second mega online jackpot at InterCasino. Just 6 months ago, KELGIRL had won herself a handsome sum of $69,425.50 playing an InterCasino's video slot machine, this morning she topped up her cumulative mega-jackpot winnings to an incredible $229,089.50 by nabbing another $159,664 on the Rags to Riches classic progressive slot machine. So far this year InterCasino has paid out $1,997,358.30 in jackpot prizes - that's almost $2 MILLION to the lucky winners!
$1,594,649.21 WON at Captain Cooks Casino!
The biggest jackpot in the history of online gaming to be offered in one single cash payment has been won at Captain Cooks casino this week. The lucky winner won $1,594,000 on progressive slot called Major Millions, on 30th May (2002).
The lucky winner, Anthony P, has been a loyal and committed player at
Captain Cooks Casino
for over 12 months. Anthony who had not played for some time and missed his friends at Captain Cooks Casino deposited $100 and called their staff who recommended he play Major Millions. He was down to his very last $10 dollars after a delightfully long period of play. Anthony described how "suddenly the three reels of the big beefy Major lined up and grinned down at him" his wife came running from the shower as they both called casino support to confirm the win. Anthony P had been impressed with the attention he received from staff at Captain Cooks and with how quickly they paid winnings to his account.
"You guys have always dealt with me with such integrity that I can trust in receiving this huge win" said Anthony "I was worried about how to help my aging parents and confused about the future as my previous business had to stop trading." "Now you can do whatever you like - thanks to
Captain Cooks Casino
" his wife said.
$130,010.25 Paid out by InterCasino video slot machine
InterCasino has paid out a total of $381,515.65 in jackpots wins in one week alone! Player 'Muttong' is InterCasino's most recent winner, scooping a life changing $130,010.25 playing InterCasinos popular Spice Island Poker video slots. It seems 'Muttong' is on a winning streak, only a day earlier Casino Manager Ryan Hartley gave her $50 at the tables!
Ryan Hartley Casino Manager commented "This is very exciting! They say things come in groups of three so we're wondering what her next piece of luck will be! Congratulations 'Muttong' and if you're third piece of luck doesn't happen in the casino then please email us and let us know what it is as we would sure like to hear about it!'
See also jackpot winners stories and testimonials. Find the winners by jackpot name or casino software. I.e. find recent King Cashalot or Millionaire's Club jackpot winner stories, interviews, and even real photos.