April 2005 Online Casino News:
April 29, 2005. CWC Gaming Implements TCSJOHNHUXLEY Roulette Wheel Analysis Solution.
San Jose, Costa Rica - With action increasing daily on its live roulette games broadcast from its television studios in Costa Rica, CWC Gaming (www.cwcgaming.com) is pleased to announce that it has installed the TCSJOHNHUXLEY Roulette Wheel Analysis solution. This..
April 28, 2005. TV Moment. Terry P. Wins $16,606.95 On Cash Splash Slot Machine At Jackpot City.
Online gambler Terry P. won $16,606.95 progressive jackpot playing Cash Splash Slot at Jackpot City online casino on April 28, 2005. "I turned around from watching TV and saw I hit the jackpot. What a surprise!" said the winner. Cash Splash is a popular 3 reel single..
April 28, 2005. HIT A HOME RUN promotion at Casino WebCam - get up to $300 free.
With your next deposit you make in April 2005, after receipt of this email and before Midnight April 30th Central standard time. You will receive a 10% deposit on your next deposit up to $300. The amount of your deposit plus the bonus must be wagered a minimum of thirty-five (35) times before withdrawing. Please allow for one business day for your bonus to be credited to your account.
April 26, 2005. I Won on My Birthday! Wallace H. Wins $12,098.95 Playing Fruit Fiesta At Casino Grand Bay.
Player Wallace H. won $12,098.95 progressive jackpot playing Fruit Fiesta progressive Slot at online casino Grand Bay on April 26, 2005. "I am 54 and won on my birthday." said the winner. Fruit Fiesta is a popular 3-reel 3 payline slot machine game developed by..
April 23, 2005. Get 100 Free Spins And 200% Match Bonus From Royal Vegas.
Royal Vegas online casino are offering new players 100 free spins to try their luck. When you register a Real account at Royal Vegas and opt in to the Free Spins promotion in addition to the regular 200% match bonus of up to $200 free you will be given a Free Spins..
April 21, 2005. Fortune Lounge Ride of Your Life Promotion Winner Take Jaguar S-Type 3.0.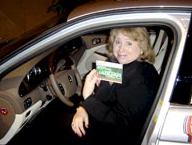 Pam P. is purring behind the wheel of her brand-new Jaguar S-Type 3.0.As the winner of the Fortune Lounge Ride of Your Life Promotion, Pam joined 19 other finalists at a glittering gala in Las Vegas. A weekend of lavish entertainment, for the finalists and their partners at the Mirage, was wrapped up in true Fortune Lounge style with everyone a winner! The First Prize Jaguar to Pam, and $30,000 worth of casino credits shared amongst the finalists.
April 20, 2005. Sporting Pop Quiz at Casino Webcam in April.
Casino Webcam offers to all new players 100% match bonus up to $150 free on their first deposit and a chance to win $50 free by answering simple questions in Sporting Pop Quiz. Answer the questions below and send them to support@casinowebcam.com and you could win one..
April 20, 2005. Absolute Poker Gives Players a Chance Each Week to Face off with Poker Pro Mark Seif and Win a $10,000 Seat at the World Series of Poker 2005.
Fastest Growing Internet Poker Site Gives Players One-on-One Opportunities in the "Mark Seif Heads-Up Shoot Out" tournament to win Cumulative Prize Money. Costa Rica - Online poker players interested in trying their hand at beating a pro and winning a $10,000 seat at..
April 18, 2005. New Jackpot, New Life. Nancy B. Wins $5,908.24 Playing LotsaLoot At All Jackpots Casino.
Nancy B. won $5,908.24 progressive jackpot playing LotsaLoot Slot at All Jackpots online casino on April 18, 2005. "That day I got to hold my new grandbaby." said the winner. LotsaLoot is a very popular Microgaming progressive slot machine game that is now available in..
April 16, 2005. William W. Wins The WIN A JAGUAR PROMOTION from Casino Rewards.
Sarah the VIP Casino Host congratulates William W on his Jaguar XK promotion win."I don't believe you! Are you serious?"It took much persuasion to convince William W that he had won the biggest promotion ever run by Casino Rewards. The draw to our exciting "Win a..
April 15, 2005. New Online Casino Reviews Are Added.
We have added new reviews of the following online casinos:
AusVegas
,
Yukon Gold
,
Vegas Red
and
Monaco Gold
. Check out current casino bonuses, list of games, payouts, deposit options, awards and comments.
April 14, 2005. Trident Entertainment Group Launches King Neptune's Japanese Casino.
(Kahnawake, Canada) - Trident Entertainment Group today launched King Neptune's Casino Japan. King Neptune's Casino is noted for providing the best Japanese language customer support to its Japanese players since December 2003. However, until now King Neptune's..
April 9, 2005. 24 Hours Of Risk-Free Blackjack At Vegas Red - 25% Kick-Back.
Vegas Red online casino offers unique opportunity for serious blackjack players in April. Simply deposit at least $100, and earn 150 comps on blackjack. If you end the day with less than 100% payouts, Vegas Red will kick-back 25% of the dealer's take! VIP Silver members and up are eligible for a 35% kick-back! Rebate bonus is 25% of the casino's take. Maximum bonus of $200 per player, players should wager the bonus 5 times before making a withdrawal.
April 7, 2005. LotsaLoot Win Makes Way For Foster Son As Kimberly G. Won $45,777.66 Jackpot.
Kimberly G. won $45,777.66 on LotsaLoot on March 23, 2005 at Maple Online Casino. Maple is the first International online casino that accept bets in Canadian Dollars, and also US$, £ & €. Kimberly asked several questions concerning her recent win: Did..
April 3, 2005. VIP Casino wins Best Player Reward Program 2004 from Strictly Slots magazine.
We are proud to announce that the players of Strictly Slots have just voted VIP Casino as having the Best Player Reward Program Online! Strictly Slots is a national consumer gambling magazine, which is published monthly in the United States. With a total circulation of..
April 2, 2005. 'What Just Happened?' Asked Janet C. After She Won $19,693.78 WowPot Progressive Jackpot.
Janet C. won her third progressive jackpot of $19,693.78 playing WowPot slot machine on March 13, 2005 at Aces High Casino. She also won $28,288.90 on WowPot on February 13, 2005 at Vegas Villa Casino, as well as $122,776.45 on Cash Splash on July 8, 2003 at 7 Sultans..
April 2, 2005. $2,000 Caribbean Summer Sizzler tournament in VIP casino.
Summer is on its way, the sun is shining and what better way to get into the spirit by playing the island game of Caribbean Stud Poker. Prize pot is set at a sizzling $2,000. The tournament will be held during 1st -30th April 2005, first prize is $1,000, second prize -..
News & Articles Index
Previous Monthly Casino News:
Mar '05
Feb '05
Jan '05
Dec '04
Nov '04
Oct '04
Sep '04
Recommended: Bonuses | Winner Stories | Casino Payouts