Latest Major Millions Jackpot Winner Story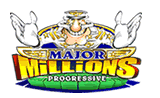 $1,683,526.64 won by Jim L. on Major Millions The World's Largest Online Jackpot at Lucky Nugget.
July 19, 2003 - Curacao, source: Jackpot Madness.
Jackpot Madness has again beaten its own record of awarding the World's Largest Ever Online Jackpot. For the third time in a little over a year, Jackpot Madness, the largest progressive jackpot portal on the Internet, has awarded a jackpot of over $1,500,000. Jim L., the latest Major Millions winner, won a record-breaking sum of $1,683,526.64 at Lucky Nugget Casino. Jim will receive his winnings in one single CASH payment. In addition to the $1,683,526.64 in cash, Jackpot Madness will treat Jim and his spouse to an all-expense paid luxury holiday to the exotic Caribbean island of Barbados.
This is the largest win in online history, and the third win of over $1,500,000 since the launch of Major Millions in April 2002. The popular slot game is a progressive 1-dollar, 3 reel, 3 pay line slot that begins with a $250,000 jackpot. Major Millions is the only game on the web that truly creates instant millionaires – offering payment in one lump, cash sum.
Tony P. was the first Major Millions winner winning an enormous $1,594,694.21 on May 30, 2002. Nine months later, on February 20, 2003, Ronald H. beat Tony's record when he won a whopping $1,626,184.56 and became the winner of the world's largest ever online jackpot at that time.
We caught up recently with Tony P., the first Major Millionaire, on the anniversary of his win. Given that there had been another Major Millions winner since Tony's win, and the jackpot was once again over a million dollars, we asked Tony if he had any advice for his fellow players: "Always play within your means and look for the Microgaming symbol at any casino you play. Then you can have fun, have a chance to win BIG money and when and if you do, you can be sure you will get paid."
Jennifer Nemirovsky, Press Agent for Jackpot Madness, commented, "We love making millionaires! We promised our players millions and we are keeping our promise. What's even more exciting is that we are setting and breaking our own records. We pay out the world's largest online jackpots. Major Millions is delighted to welcome Jim to our family of millionaires and we look forward to creating more. Major Millions is available at dozens of casinos powered by Microgaming, and has become the only progressive to pay out such enormous sums in one cash payment."
Do you know that new VIPER software from MicroGaming allows you automatically play a selected number of hands or spins without having to continuously hit the 'Spin' button? "You could theoretically tell Viper to play all night while you sleep - only stopping if it hits a jackpot," said Trevor Penn, Crazy Vegas Casino Manager.
About Jackpot Madness:
Jackpot Madness, run by Jumbo Jackpots of Curacao, is the world's largest online progressive network. All the jackpots won on the casinos providing these games are offered through full direct cash payouts - the only games on the Internet offering this benefit. The goal of the portal is to provide jackpot enthusiasts with a single destination offering a wide choice of progressives, featuring frequent payouts and record-breaking jackpots. The jackpot totals are "live" and Jackpot Madness provides constantly updated information together with links to over 70 casinos. Total payouts are over $100,000,000 and counting.
See more winners: All Major Millions Winners Stories
Related MM articles:
1. Winner Stories About Big Online Casino Wins.
2. Michele S. Hits $872,884 Major Millions jackpot.
3. Microgaming Progressive Hits Landmark $200 Million Payout Total.