Mobile Gaming At Slotland Online Casino - New Games To Play On Your Phone Or PDA.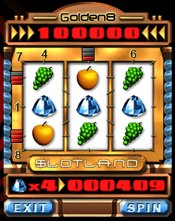 Slotland Online Casino continues converting its unique and fun slots and video poker games to the mobile platform, and in the very near future, a 5th game will be converted to mobile systems! Remember that each time a new game is added, a
FREE $20 bonus
is credited to your player account when you download the newly added game. If you have not yet tried out $lotland games via a mobile system, you should really get with the times! Right now, there are four games from which to choose: Lucky Stars, Jacks or Better, Booster and Golden 8. Striking 7's will be added soon to the portfolio.
If you have not yet downloaded these games, go for it now. And if you download Golden 8 (casino's most recently released addition to the mobile stable of games) before Slotland release its next exciting game, you can get a FREE $20 to try it out! You will have nothing to lose, plenty to gain with the right spin, and a ton of fun! If you need any assistance using our mobile games, please check installation.html page for more detailed instructions or email Slotland's friendly support staff who will be happy to walk you through the easy process!
HOW TO PLAY AT SLOTLAND ON YOUR MOBILE PHONE
If you do not have an existing account at Slotland please register an account at
Slotland Online Casino here
in order to receive your login ID and password.
- Start the Internet or WAP browser on your mobile phone.
- Type the Slotland WAP address wap.slotland.com in your Internet or WAP browser.
- Confirm the auto-selection of your mobile phone or navigate through the list of mobile phones and select your brand and model.
- Once you select your mobile phone you are prompted to download the game. Confirm the download. Please be patient, the download can take up to 60 seconds to complete.
- Once downloading is complete the game will automatically be installed.
- Start the game by choosing the 'Real Play' option. Then log in using your existing Slotland login ID and password. You are now ready to place your bets and play.
Win The Jackpot Playing On Your Phone!
Slotland would certainly be proud to announce a record-breaking year by announcing casino's 10th jackpot winner of the year! Since inception in 1998, Slotland online casino have never had a year in which 10 players have grasped the top prize by hitting the progressive jackpot, but this year seems primed to be the year in which it happen! Our 9th jackpot winner did it on November 1, and another progressive jackpot of over $100,000 was hit on December 22. Now players on Mobile phones and PDAs can win huge 6-digit progressive jackpots. Just imagine what kind of Christmas and New Year you would be celebrating as the newest and record breaking jackpot winner!
Requiremets
Generally you can use any cell phone, mobile phone, Smart phone or PDA (Personal Digital Assistant), which supports Java technology, and which has a color display having a resolution of at least 128x128 pixels.
If you plan to buy a new cell phone, the following devices performed best with Slotland's games during tests. The casino therefore highly recommend them for playing Slotland mobile games: Audiovox PPC4100, Motorola E1000, Motorola RAZR R3 and Sony Ericsson S710a. However, most relatively new models from most mobile phone manufacturers are supported: Audiovox, LG, Motorola, Nokia, Nec, Sanyo, Samsung, Sharp, Siemens, SonyEricsson, devices with Palm/Windows Mobile OS.
Wireless Network Provider - US players
The majority of US mobile service providers are supported, including the following:
Network provider, ATT Wireless (former), Cingular, Nextel, Sprint and T-Mobile USA
.
Virgin
Currently not supported. Please contact support for more info.
Verizon
Verizon does not support Java, except for some devices. Therefore the casino can currently support only Palm and Pocket PC, with Java installed by the user, and Blackberry, which has Java already preinstalled.
Other Other networks may also work with Slotland's mobile games.
Source: Slotland Online Casino
Related Articles:
1. Spin3 And Microgaming Bring Vegas Favourite Keno Game To Mobile..

(27/09/2006)



2. 6 Great New Games At Trident Casinos In December - Play Jingle..

(13/12/2006)



3. Three New Video Slots, Power Poker And Five Blackjack Versions..

(02/12/2006)



4. InterCasino Has Added 17 Brand New Awesome Games In Its Version..

(17/11/2006)



5. 3 Card Poker, 3 Video Slots, Multi-Hand Blackjack And All Aces..

(02/11/2006)



6. New Slot Games At Jackpot Factory Offering Triple Loyalty..

(09/10/2006)



All Online Casino News & Gambling Articles