PokerTime Online Poker Room Adds New Game Razz Where Winning Low Is The Way To Go.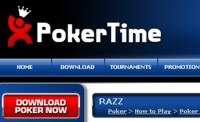 In the middle of September PokerTime poker room added a new game to its repertoire of online poker entertainment, called Razz. With the eye on broadening online poker enthusiasts' horizons, PokerTime has included a new Poker variant to their arsenal. The game of Razz is very similar in play to 7-card Stud and sometimes called Seven-Card Stud Low, with a few exceptions. One of these is that Stud plays, as usual for Poker, for the highest hand being the winner, whereas Razz does just the opposite: the lowest hand wins.
The format of Razz is very similar to seven-card stud high, except the high card (Aces are low) is required to make the forced bet in the first round, and the low hand acts first on all subsequent game rounds. Straights and Flushes have no ranking in Razz, so the best possible hand is 5-4-3-2-A, also called a Wheel.
Razz is a strange variation, to say the least, but it's a definite feast of intrigue and contradiction for those who are fed up with always losing out with lesser hands. Each player gets dealt 3 cards face-up, and the following rounds reveal 4 more upcards, open to anyone, from which a five-card hand is made to achieve a winning hand.
This new game is a must-play for those who want something new and exciting in Poker standards. Even for those who just love Poker, plain and simple, and swear by Hold'Em and Omaha, it doesn't hurts to try out new things, and it's as easy as going to the PokerTime lobby and selecting a Razz table to play at. Unlike Stud, the lowest hand wins the pot, Aces are only counted as low ones and A pair of Aces (two 'ones') loses to a pair of deuces.
On subsequent rounds following the first round, the low hand, rather than the high hand as in the 7-card Stud, acts first. If two players have the same low hand, then the suit of the lowest card determines who acts first (as with most cases, the suits read from spades as highest, followed by hearts, diamonds and then clubs as lowest). The best possible Razz hand is 5-4-3-2-A or 5 high, also known as 'the wheel' or 'the bicycle'.
Winning with low hands in new ways is the name of the game. So go to PokerTime, play Razz and experience this Poker alter-ego firsthand.
About PokerTime
PokerTime is a well-respected and trusted online poker member of the highly reputable Carmen Media Group and Microgaming poker network. In turn, PokerTime is bound to its high standards and principles, assuring online players of all the support, security, integrity and outstanding customer service that make for this superior gambling environment.
$25 UPFRONT + 100% MATCH BONUS Of $100
Make your first deposit at PokerTime and receive 25% of the amount you deposited as a bonus upfront. That's an instant bankroll boost of up to $25 free - without any raked hand requirements. Claim this free cash immediately and play with it straightaway. Plus, you'll also get 100% match bonus on your second deposit up to $100 free to your bankroll.
About Fortune Lounge
Fortune Lounge is home to some of the most established and largest online casinos and Internet poker rooms in the gambling industry. They have achieved their legendary status by offering a superior online gambling experience, coupled with a commitment to ethical behavior, dedicated player service and operational excellence. As the winner of "Top Casino Group for 2005" in the annual Gambling Online Magazine Readers Poll Awards, Fortune Lounge confirmed their position as leaders in the online gaming industry. Their dedicated 24/7 support team has been hailed as one of the best in the business and all Fortune Lounge casinos are accredited by independent watchdog eCoOGRA and the Kahnawake commission, guaranteeing the highest level of quality and integrity. Exciting, visually enticing online casino games are introduced on a monthly basis, ensuring that
Fortune Lounge
is the better place to play.
Related Articles:
1. Solomon's Mines, Naughty Ninjas And More New Games In English..

(21/09/2008)



2. First Past The Post And Sir Winsalot New Slots And New Level-Up..

(14/09/2008)



3. Casino Tropez Mobile News - New Slot, Game Of The Month And..

(04/08/2008)



4. New Sub-Mariner Video Slot And Milti-Hand Blackjack At..

(09/07/2008)



5. Bomber Girls And Faberge Eggs In Microgaming Releases - New..

(17/06/2008)



6. Introducing Slotris - New Slotland's Casino Slot Game

(09/06/2008)



All Online Casino News & Gambling Articles