Slotland Halloween Promotion And Extra Bonuses.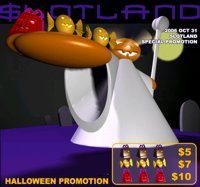 Slotland online casino is offering a special
one-day promotion for Halloween
(October 31). It is titled Halloween Bonuses and is designed to get even more free cash to all casino players at Slotland!
Slotland once more is offering an outstanding promotion this month, and we are pleased to inform all potential and existing players of deposit opportunities at Slotland during this special weekend.
Get 20% of each deposit made on Halloween!
Each deposit a player makes on Halloween Day will earn him/her
at least a 20% bonus
. We say "at least" because a player can also win $100 bonuses for each $1,000 deposited PLUS each dollar deposited places him/her in Slotland's weekly draw where the player can win up to $500! Imagine making a $200 deposit which pushes your deposits over $1,000 (or an increment of $1,000), thus winning you an additional $100. Your account would then find a total of $340 waiting for you to play ($200 deposit PLUS 20% bonus of $40 PLUS $100 bonus for $1,000 in deposits) and you have 200 tickets to the $500 weekly drawing (400 tickets, if you are a VIP player), which takes place every Wednesday! Make this day special for you by playing and winning at $lotland!
There is a special bonus day for Halloween Day (October 31)! SLOTLAND has a great reputation of providing fun games, great bonuses, top-notch service and exciting wins. Join now and start playing at SLOTLAND so you will not miss any of the fun and money to be won! The casino offers unique slots and video poker games, compartible with Mac/AOL/WebTV.
All registered SLOTLAND players receive their personalized newsletter prior to the start of each promotion. Each newsletter offers the registered SLOTLAND player a match deposit bonus from 30% to 100% for each regular monthly newsletter, PLUS the chance to win up to $10 on each special newsletter edition (there is generally 1 special newsletter per month)! If you are not yet registered at SLOTLAND, NOW is the good time to start. You can increase your beginner's luck at SLOTLAND by cashing in on the fun and many bonuses. US-based players and players from other countries worldwide are welcome. You can play mobile versions of popular Lucky Stars, Jacks or Better and Golden 8 $lotland's games.
Source: Slotland Online Casino
Related Articles:
1. 'Woff Down The Winnigs' Promotion At Gaming Club Casino In..

(10/10/2006)



2. $50,000 Pumpkin Progressive Promotion And $100,000 Halloween..

(01/10/2006)



3. Slotland Casino Wins Two Awards From Strictly Slots Magazine

(28/09/2005)



4. Leaving Las Vegas For Slotland - Reviews Of Online Gambling..

(20/10/2004)



5. Gambling Trivia - The History Of Casino By Slotland

(17/09/2004)



6. Gambling Trivia - The History Of Craps And Dices By Slotland

(23/08/2004)



All Online Casino News & Gambling Articles